COVID-19 Business Strategies Hub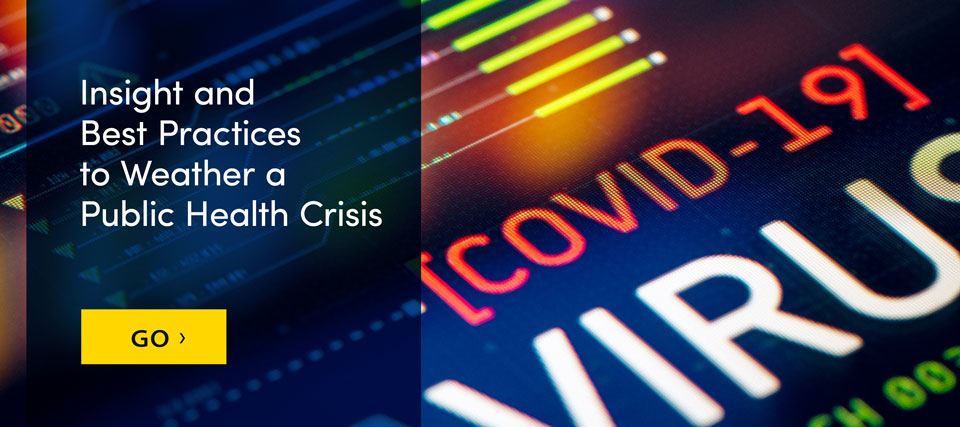 In an ongoing effort to help business leaders sort through information regarding the COVID-19 pandemic, we have created this user-friendly hub with updates, insights, and best practices. You will find articles to help you prepare and respond to the legal, regulatory, and commercial implications of this pandemic.
We recommend bookmarking this page and checking it often, as our attorneys continue to provide updates and insights. You may also subscribe to our alerts to directly receive information as we send it. For specific questions regarding your business, please contact your Dinsmore attorney.
Go to: LATEST UPDATES
---
Latest Updates ON COVID-19
WEBINAR | VIEW-ON-DEMAND

COVID-19 Legal Issues for the Construction Industry

WEBINAR | VIEW-ON-DEMAND

Workplace Safety and COVID-19: MSHA and OSHA Considerations

MORE WEBINARS
---
INSIGHT | March 2020

COVID-19: Do Your Employees Qualify for Emergency Paid Sick Leave or Emergency FMLA Extension?

INSIGHT | April 2020

United States Patent and Trademark Office Responds to COVID-19 Delays
INSIGHT | April 2020

CARES Act Offers Social Security Tax Deferral and Tax Credit for Certain Employers Hurt by the COVID-19 Pandemic

INSIGHT | April 2020

Highlights of DOL Temporary Rule on Expanded FMLA and Paid Sick Leave
BACK TO TOP

---
Additional Resources
Read the Latest Executive Orders From CSG

The Council of State Governments updates state-by-state EOs in real-time

CDC: Center for Disease Control

The primary national resource for coronavirus-related data and updates.


Keep Connected

Subscribe to receive the COVID-19 Update — a summary of our most up-to-date information in one email.

---
BACK TO TOP