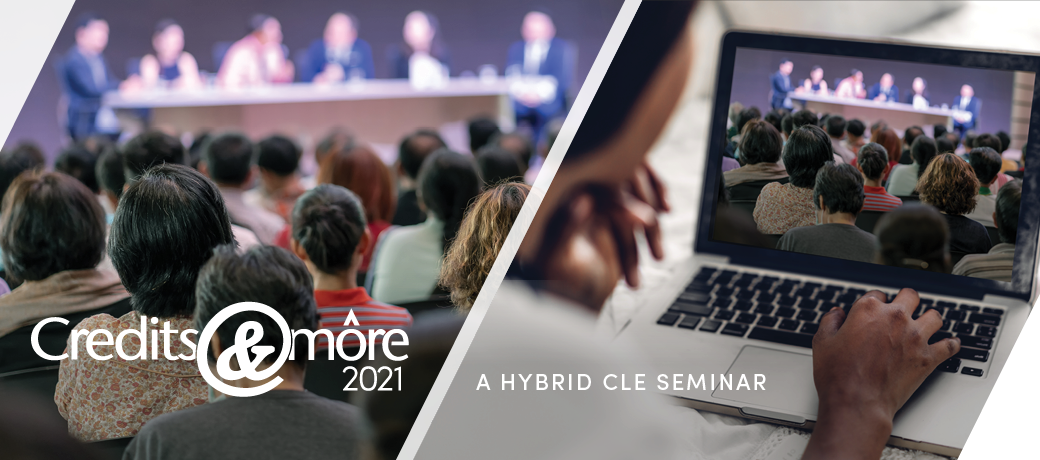 Welcome!
Our hybrid Continuing Legal Education Seminar will include credit for Professional Conduct (2.5 hours) addressing the importance of ethics during internal investigations and when dealing with government agencies as well as ethical issues when practicing in Federal Court. The seminar will also include general legal credit (4.0 hours) with presentations on environmental, social, and governance policies, a U.S. Supreme Court update, legal issues in managing virtual workplaces, and updated strategies for maintaining and enforcing trade secrets.
On this page, you can get more details on the featured programming offered throughout the day. All session times are Eastern Standard Time (ET).
7:30 a.m.
Registration and Breakfast
---
8:20 a.m.
Welcome Remarks and Program Overview Information
8:30 - 10:00 a.m.
Professional Conduct:
What's Going on Behind Your Closed Doors? Ethical Issues and Best Practices in Conducting Internal Investigations and Dealing with Government Agencies
(1.5 - hours professional conduct credit)
From whistleblowers and data leaks to civil enforcement and regulatory actions, Dinsmore's complex litigation attorneys, including three former U.S. Attorneys and assistant U.S. Attorneys, will discuss internal investigation strategies and the ethical rules that govern attorney conduct when dealing with Federal, state, and local government agencies. Dinsmore Panelists Sarah Cameron, Robert Duncan, Lindsay Gerdes, Michael Stuart, and Laurie Witek will discuss best practices for impending litigation and when to involve external counsel to ensure an optimal outcome. The panel's discussion will focus on ABA Model Rules: 1.1 Competence; 1.3 Diligence; 1.7 Conflict of Interest; 1.9 Duties to Former Clients; and Rule 1.11 Special Conflicts of Interest for Former and Current Government Officers and Employees in addition to various provisions of the United States Code.
Panelists
---
Robert Duncan
Partner, Dinsmore & Shohl LLP
Lindsay Gerdes
Partner, Dinsmore & Shohl LLP
Michael Stuart
Partner, Dinsmore & Shohl LLP
Laurie Witek
Partner, Dinsmore & Shohl LLP
Moderated by
---
Sarah Cameron
Partner, Dinsmore & Shohl LLP
10:15 - 11:15 a.m.
Professional Conduct:
Perspectives from the Bench: Ethical Considerations with Federal Court Practice
(1.0 - hours professional conduct credit)
Judge Michael J. Newman, Judge J. Philip Calabrese, and Magistrate Judge Amanda M. Knapp will present a panel discussion of common ethical issues arising when litigating in federal court. In particular, the panelists will discuss Rules of Professional Conduct Rule 3.1 (Meritorious Claims and Contentions), Rule 3.3 (Candor Towards the Tribunal), Rule 3.4 (Impartiality and decorum of the tribunal), among other rules and professionalism considerations. The Judges will discuss how practitioners can effectively and efficiently present their cases, while staying within bounds of the Rules of Professional Conduct. Also discussed will be potential traps for the unwary that should be avoided. This panel will be moderated by Micaela Taylor, an Associate in Dinsmore & Shohl LLP's Columbus office.
Panelists
---
Judge Michael J. Newman
U.S. District Court for the Southern District of Ohio
Judge J. Philip Calabrese
U.S. District Court for the Northern District of Ohio
Magistrate Judge Amanda M. Knapp
U.S. District Court for the Northern District of Ohio
Moderated by
---
Micaela Taylor
Associate, Dinsmore & Shohl LLP
11:30 a.m. - 12:30 p.m.
Environmental, Social, and Governance (ESG): Helping Organizations Move from Theory to Action
(1.0 - hours general credit)
Environmental, Social, and Governance (ESG) are three criteria that create a framework for helping companies incorporate personal values into their business operations. Often used as a tool for assessing an investment, ESG considers the impact a company has on its employees, customers, and the communities where it operates and identifies companies that have built sound environmental practices, strong social responsibility tenets, and ethical governance initiatives into their corporate policies and everyday operations. Organizational leaders who understand and implement ESG embrace a more stakeholder-centric approach to doing business. This panel will provide an introduction to ESG and discuss various regional and global nuances that may influence a company's ESG philosophy. Attorney panelists Tammy Bennett, Michael Bronson, David Lavan, and Richik Sarkar will provide practical guidance on forming an ESG policy and how to move from theory to action when implementing organizational change.
Panelists
---
Tammy Bennett
Partner / Chief Diversity, Equity, and Inclusion Officer, Dinsmore & Shohl LLP
Michael Bronson
Partner / Deputy Diversity, Equity, and Inclusion Officer, Dinsmore & Shohl LLP
David Lavan
Partner, Dinsmore & Shohl LLP
Richik Sarkar
Partner, Dinsmore & Shohl LLP
12:30 - 1:00 p.m.
Lunch Break
1:00 - 2:00 p.m.
From RBG to ACB:
What Justice Amy Coney Barrett's Succession of Ruth Bader Ginsberg Portends for the Supreme Court and Its Jurisprudence
(1.0 - hours general credit)
Law Professor Christopher Bryant will present on the implications of Justice Amy Coney Barrett's first term on the Court and three of the many areas of the law that might witness substantial revision in coming years: (1) statutory interpretation methodology; (2) separation of powers jurisprudence; and (3) the First Amendment's guarantee of the Free Exercise of Religion. In each area, key issues will be highlighted, and the contending perspectives of these two important jurists will be compared, in the hopes that changes in the law may be both better anticipated and understood within broader theoretical debates about the proper role of the Court and competing approaches to judicial interpretation of authoritative legal texts.
Presenter
---
Prof. Christopher Bryant
University of Cincinnati College of Law
Moderated by
---
Jacob Hoback
University of Cincinnati College of Law, Class of 2022
2:15 - 3:15 p.m.
Work in the Post-Pandemic World: Legal Considerations
(1.0 - hours general credit)
As life returns to a "new normal," many employers are faced with the dilemma of whether to require employees to return to a traditional workplace – or – whether to embrace a remote workforce. Remote employees create significant compliance issues for employers, especially when they unintentionally subject businesses to new jurisdictional requirements and liabilities. This panel will feature employer panelists from Dinsmore clients and Dinsmore attorneys Allison Goico, Kurt Hunt, and Kelvin Lawrence, who will discuss real-world return to work scenarios and will provide advice on potential legal compliance pitfalls.
Panelists
---
Sheri Harper, MBA, SHRM-SCP
Chief People Officer, Tire Discounters
Abby Chermely
Assistant General Counsel, Labor & Employment, EssilorLuxottica
Kurt Hunt
Partner, Dinsmore & Shohl LLP
Moderated by
---
Allison Goico
Partner, Dinsmore & Shohl LLP
3:30 - 4:30 p.m.
Trade Secrets 2021:
The Benefits of and Challenges to Maintaining and Enforcing Trade Secrets
(1.0 - hours general credit)
Trade secrets can be among an organization's most valuable assets. Today, organizations face unprecedented challenges to appropriately identify, protect, and safely share trade secrets. In this session, we will discuss the role of trade secret protection vis-à-vis patents and other forms of intellectual property. The panel will also explore in-house counsel viewpoints and best management practices for trade secret consideration and protection. Finally, the panel will discuss the impact of the Defend Trade Secrets Act of 2016 (DTSA) and large-award litigation trends.
Panelists
---
Matthew McNutt
Senior Division Counsel for Intellectual Property, Corning Incorporated
Jason Hilliard
Partner, Dinsmore & Shohl LLP
Joseph Leventhal
Partner, Dinsmore & Shohl LLP
Brian Tent
Partner, Dinsmore & Shohl LLP
Moderated by
---
Jaci Overmann
Partner, Dinsmore & Shohl LLP
4:30 p.m.
Concluding Remarks and Instructions for Obtaining CLE Credit
Seminar Materials Available
---
We anticipate handout materials to include over 200 pages of material. The Powerpoint slides and materials for each session will be offered to the participant in electronic ("PDF") format, prior to, during, and after the seminar.
On-Demand Seminar Sessions Available
---
Simulive broadcasting will be available post-seminar in case you miss any of the accredited content above. We will provide communications regarding Simulive broadcast dates and times. When you register for the virtual CLE seminar, remember to select the option to receive these communications if you choose.
Guest Speaker Profiles
---
Judge Michael J. Newman is a United States District Judge in the Southern District of Ohio's Dayton seat of court. After being recommended by the Bipartisan Judicial Selection Commission created by Senators Portman and Brown, he was nominated by President Trump in March 2020, confirmed by the U.S. Senate in October 2020, and sworn in on November 12, 2020. Judge Newman previously served in the Dayton seat of court as a United States Magistrate Judge, a position to which he was appointed in 2011, and reappointed in 2019 to a second eight-year term.
Judge Newman graduated with honors from the Washington College of Law at American University and attended the Advanced Mediation Program at Harvard Law School. He was a law clerk on the Sixth U.S. Circuit Court of Appeals (to Judge Nathaniel R. Jones) and the United States District Court for the Southern District of Ohio (to Magistrate Judge Jack Sherman, Jr.). Prior to taking the bench, he was a partner at Dinsmore & Shohl in Cincinnati, where he chaired the firm's Labor & Employment Appellate Practice Group. He practiced in the areas of labor and employment, business litigation, ERISA litigation, and appellate litigation, and represented a wide range of clients - from individuals to Fortune 500 companies. He was also extensively involved in pro bono work, and created and led Dinsmore's pro bono appellate program in the Sixth Circuit. While in private practice, he was named a Leading Lawyer, an Ohio Super Lawyer, and one of the Best Lawyers in America in Labor & Employment Law.
Amongst his numerous accomplishments, Judge Newman has been recognized by the Federal Magistrate Judges Association for "valuable and dedicated service to all Magistrate Judges," and was honored to receive the Boots Fisher National Public Service Award given annually to one lawyer in the United States for "exemplary community, public and charitable service." He also received the Federal Bar Association President's Award for "leadership [as well as] extraordinary service, and guidance." In 2019, he was recognized by Washington University Law School in St. Louis for his "service on the bench, to the legal profession, and to society." In 2020, he was honored to receive the Ohio State Bar Foundation's highest award, the Ritter Award, "for a lifetime of service…in attaining and promoting the highest standards of professionalism, integrity and ethics in the practice of law while assisting other attorneys, the courts and the public to envision and cause changes which improve the justice system in Ohio."
---
Judge J. Philip Calabrese
Judge J. Philip Calabrese was confirmed to serve on the U.S. District Court for the Northern District of Ohio in December 2020. Previously, he served on the state trial court in the Cuyahoga County Court of Common Pleas. Before taking the bench, he had a complex litigation practice for nearly two decades and was a partner at what is now Squire Patton Boggs and at Porter, Wright, Morris & Arthur, LLP, where he co-chaired the firm's class action practice. After graduating from Harvard Law School, Judge Calabrese began his legal career as a law clerk to Judge Alice M. Batchelder of the United States Court of Appeals for the Sixth Circuit. He also serves as an adjunct professor at Case Western Reserve University School of Law, where he teaches an advanced course on expert evidence.
---
Judge Amanda M. Knapp
Judge Knapp was appointed as a United States Magistrate Judge by the U.S. District Judges for the Northern District of Ohio, effective October 1, 2021. Prior to her appointment, Judge Knapp served as an Administrative Law Judge with the Social Security Administration in Akron and, before that, practiced with the law firm of Roetzel & Andress, LPA. From 2007 to 2008 Judge Knapp served as the Assistant Law Director for the City of Cleveland Heights. She also served as counsel for the California State Senate Judiciary Committee from 2005 to 2006. Judge Knapp received her undergraduate degree from the University of Pennsylvania in 1999 and her J.D. from Harvard Law School in 2002. Following law school, Judge Knapp clerked for Judge Margaret M. Morrow in the U.S. District Court for the Central District of California and Judge Garland E. Burrell, Jr., in the U.S. District Court for the Eastern District of California.
---
Professor A. Christopher Bryant
Since joining the University of Cincinnati College of Law faculty in 2003, Professor A. Christopher Bryant has been a prolific scholar and an exceptionally skilled and award-winning teacher of constitutional law. Professor Bryant's numerous published articles and essays reach a wide range of issues of contemporary constitutional importance, including the separation of powers, judicial review, and the roles of the various branches of the national government in constitutional interpretation. He is a recognized expert on the scope and exercise of national legislative power and the respect that Congressional action is owed from the federal judiciary, with leading articles on the subject published in the Cornell Law Review, George Washington Law Review, BYU Law Review, Notre Dame Journal of Legislation, and William & Mary Bill of Rights Journal. Professor Bryant's research in federalism and unenumerated rights include a co-authored book, "Powers Reserved for the People and the States": A History of the Ninth and Tenth Amendments (Greenwood Press 2006), as well as articles in the Georgia Law Review and the Cornell Journal of Law and Public Policy, to name only a few. He authored thirteen essays on landmark constitutional cases for the Encyclopedia of the Supreme Court of the United States (Macmillan 2008), and is a frequent speaker on the Constitution, the Congress, and the federal courts at symposiums, conferences, and public programs.
Professor Bryant is a member of the America Society for Legal History and the Federalist Society and also serves as faculty advisor to the College's Federalist Society chapter. Before beginning his academic career, Professor Bryant served as Assistant Senate Legal Counsel in the U.S. Senate Office of Legal Counsel and as an associate at Shea & Gardner in Washington, D.C. After earning his JD, Professor Bryant clerked for the Hon. James L. Buckley of the U.S. Court of Appeals for the District of Columbia Circuit.
---
Sheri Harper, MBA, SHRM-SCP
Sheri's strategic human resources leadership experience, paired with her expansive business acumen and service-focused approach, has helped shape her 20+ year career. As an HR executive, Sheri brings a history of building and scaling robust human resources organizations, infrastructures, and teams for companies across multiple industries, including hospitality, financial, commercial printing, resource management, and property management.
As a senior executive, thought leader, and advisor, Sheri is known for driving optimal business and HR outcomes through innovative solutions and best practices. Furthermore, by establishing critical people and HR capabilities, she has effectively steered organizations through startup, M&A, turnaround, and high-growth phases.
Today's businesses and workplaces are consistently changing and Sheri thrives in these environments by driving organizational transformation and unifying diverse workforces. She believes there is nothing more rewarding than empowering employees to reach their full potential or uniting employees to reach a common goal.
---
Jacob Hoback
Jacob Hoback is a third-year law student at the University of Cincinnati College of Law. He is currently a Teaching Assistant to Professor Bryant in Constitutional Law as well as the President of the school's Federalist Society Chapter. He has multiple articles published about the Free Exercise Clause in the University of Cincinnati Law Review Blog as well as the Federalist Society's national blog. This past summer, he was a summer associate at Goodwin Procter in the New York Office, and next year, he will begin clerking in the Northern District of Florida for the Honorable T. Kent Wetherell II.
---
Matthew McNutt
Matt McNutt has been practicing intellectual property law since 1993, both in private practice and as in-house counsel. He has spent the past 14 years at Corning Incorporated, where he is Senior Division Counsel for Intellectual Property ("IP"). In his current role, Matt oversees IP legal support for Corning's Display market access platform, as well as Corning's Science & Technology division. Matt also provides operational oversight for the paralegal teams handling docketing and Non-Disclosure Agreement activity for Corning's IP Center of Excellence. In the context of trade secrets in particular, Matt has experience counseling on trade secret protection issues, and investigating and enforcing trade secret-related claims in both civil and criminal settings. Much of this experience involves jurisdictions outside the United States and the unique challenges associated with international disputes.
---
Abby Chermely
In her role as Assistant General Counsel at EssilorLuxottica, Abby guides the Company through a wide range of labor and employment issues that arise in the workplace. She focuses on finding practical and innovative solutions for the Company's diverse employee populations. Abby also manages the Company's employment litigation, including developing litigation strategy and serving as the liaison between outside counsel and business leaders.
Prior to her role with EssilorLuxottica, Abby was a management-side labor and employment attorney at Dinsmore & Shohl. During her time at Dinsmore, she counseled employers on various labor and employment issues. She also defended employers against charges filed with the Equal Employment Opportunity Commission and in matters in state and federal courts throughout the country.
Abby began her legal career clerking for Judge Beth Myers in the Hamilton County Court of Common Pleas and for Judge Michael Barrett in the United States District Court for the Southern District of Ohio.
---