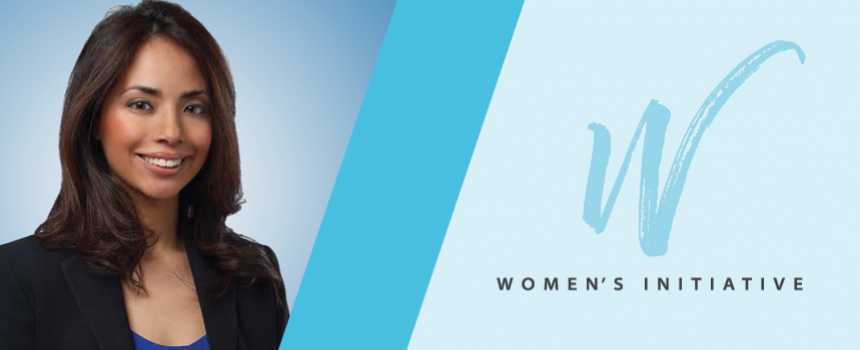 Meet Elvira Cortez, Lawyers Club President and Former Junior Olympian
As part of Dinsmore Women's Week, we are highlighting a number of the fantastic women who help make Dinsmore a thriving national entity. Next up is Elvira Cortez, who is currently serving a term as the president of the Lawyers Club of San Diego. Elvira is a commercial litigation associate in San Diego. Learn more about her below.
---

1. What is your current role at Dinsmore and can you describe your career path to success thus far?
I am a senior associate at Dinsmore and am part of the commercial litigation practice group. I came to Dinsmore as a lateral hire two years ago. I was attracted to Dinsmore because of its reputation of providing high-quality legal service and its support of women attorneys. I have established my success by concentrating on mastering my area of practice, being responsive and anticipating my client's needs, and assuming leadership roles in the San Diego legal community to foster valuable referral sources
2. Dinsmore has repeatedly been named a top national firm for women. How has the firm's focus on inclusion and equality benefited you personally?
Dinsmore's support has allowed me to grow as an attorney and concentrate on building a book of business. Dinsmore has given me high-quality work and interesting cases and allowed me to take lead on commercial litigation and employment cases. I have also been able to learn by collaborating with knowledgeable attorneys on how to best serve our clients' interests.
With Dinsmore's support, I assumed a leadership position with Lawyers Club of San Diego, the largest specialty bar in San Diego, with more than 1,300 members. Lawyers Club focuses on advancing the status of women in law and in society. This year, I was honored to be elected as president of the organization. My election has also brought recognition to Dinsmore in the San Diego legal community as a firm that values and supports women.
Dinsmore has also supported me as a mother. While being both a mother and attorney is challenging, Dinsmore's industry-leading maternity leave policy has provided me the flexibility I need to give my newborn the necessary love and attention. At the same time, I look forward to returning to work to continue to provide quality legal advocacy for my clients and tackle the challenging legal issues that are part of our legal practice.
3. What advice do you have for women starting their careers?
The most important responsibility for a young attorney is to learn her craft. As an attorney learns to master her practice, she will gain respect from her colleagues and be seen as a dependable and knowledgeable professional. At the same time, it is important to begin establishing a network of possible referral sources. An excellent place to start is with local bar organizations, where women should focus on volunteering for leadership positions. This provides an excellent opportunity to form long-term relationships with other members of the legal community, which can serve as a valuable referral source.
4. What was your first job, and what is your best story from your time working there?
When I was young, my first job was as a salesperson at a baseball card shop. One day, an avid collector came into the store to make a purchase. He assumed that because I was a woman, I did not know anything about sports. Instead of simply asking for assistance, he proceeded to test my knowledge by asking several questions about baseball, including identifying the team of Jose Canseco. I passed his test. At that time, Jose Canseco played for the Oakland A's. The customer later became one of my best clients.
5. What's something people would be surprised to learn about you?
My very first airplane trip was when I was 16 to the state of Kentucky. I visited Kentucky to participate in the in Junior Olympics in Tae Kwon Do.