Dinsmore Supports First Responders with Free Wills
June 18, 2012
–
News Releases
First Responders put themselves at risk each day so our communities can have peace-of-mind when the unthinkable happens. In light of their commitment to the community, more than 80 first responders and their spouses will receive free legal help drafting wills and related documents from more than 40 volunteers, including 15 Dinsmore attorneys, on June 23rd at the Blue Ash Fire Department. The "Wills for First Responders" program is coordinated by the Dinsmore Community Ambassadors, a part of Dinsmore's Professional Development Committee

"The Dinsmore Community Ambassadors decided to coordinate the Wills for First Responders event because there are a number of attorneys in our firm, myself included, who have had the pleasure of working with first responders throughout the community," said Jessica Dipre, an attorney at Dinsmore and team leader for the program. "We wanted to honor their commitment to preserving the safety of our community by providing them with free wills and other estate planning documents. These documents will be able to speak for the first responders in the event that they are no longer able to speak for themselves."

This program brings together a total of more than 40 volunteer lawyers, paralegals and staff from Dinsmore, LexisNexis and the Cincinnati Paralegal Association to prepare basic wills, living wills and health care directives for first responders and their spouses.

Participating agencies include:
Blue Ash Fire Department
Blue Ash Police Department
HCPA (Hamilton County Police Association) – SWAT Team
Indian Hill Rangers
Fairfax Police Department
For more information, visit www.dinsmore.com/wills_for_first_responders.
Related Photo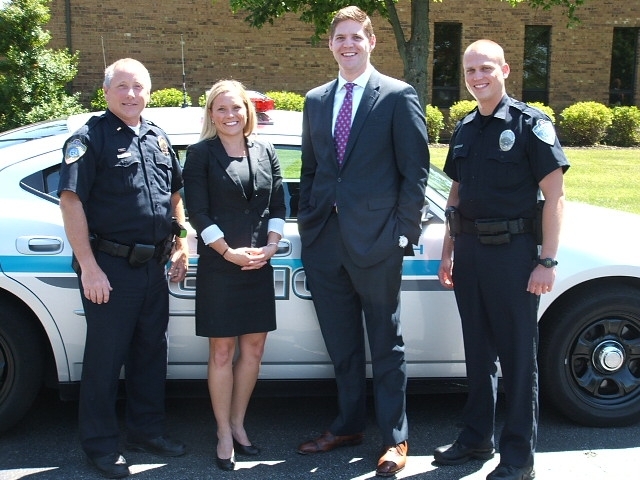 Pictured (from left to right): Officer Hartinger, Brea L'Heureux and Luke Anderson of Dinsmore, and Officer Taylor. Both officers are with the Blue Ash Police Department.