The OSH Line - February 2019 Issue
February 1, 2019

–

Newsletters
Occupational Safety & Health Insights For Employers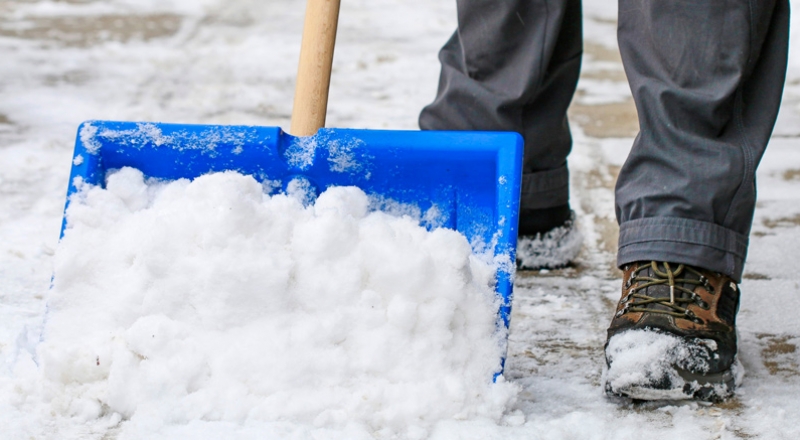 Safety Initiatives to Consider
We hope everyone is having a safe and warm start to 2019. As much of the nation is affected by the disruption of the Arctic polar vortex, employers and employees are seeking ways to stay safe and warm. The current cold spell is expected to last for a number of weeks in parts of the county, so it is worth revisiting ways to ensure employees stay safe and warm, since cold temperatures and winter storms create a number of potential safety issues. OSHA has once again published winter weather guidance to help employers "prevent injuries, illnesses, and fatalities during winter storms." Some hazards created by cold weather and winter storms include cold stress, slips and falls on icy surfaces, and hazards related to snow removal.
OSHA's guidance on cold stress is similar to its guidance on heat stress. Although OSHA does not have a specific standard that addresses cold stress, employers must still protect workers from cold stress hazards under OSHA's General Duty Clause. Some of what employers can do includes training employees on how to avoid cold stress, selecting proper protective clothing, implementing appropriate administrative and engineering controls to keep employees warm, and monitoring the weather. Employers are not required to pay for "[o]rdinary clothing, skin creams, or other items, used solely for protection from weather, such as winter coats, jackets, gloves, parkas, rubber boots, hats, raincoats, ordinary sunglasses, and sunscreen." 29 C.F.R. § 1910.132(h)(4)(iii).
To prevent slips on snow and ice, OSHA suggests, "employers should clear walking surfaces of snow and ice, and spread deicer, as quickly as possible after a winter storm." OSHA also provides tips for employees to follow to avoid slipping and falling on icy surfaces. Employers should note injuries resulting from a slip and fall on ice in a company parking lot or sidewalk is work related under OSHA's recordkeeping standards and guidance.
Another seasonal safety and health issue affecting employers is the flu. Employers should make sure hand soap is available in all restrooms and remind employees to be diligent in practicing good personal hygiene. OSHA has guidance available with tips employers can follow to reduce the spread of the flu in workplaces.
SECRETARY OF LABOR UPDATE
Still Waiting for an Assistant
Dr. David Michaels stepped down as the assistant secretary of labor for OSHA on January 10, 2016. OSHA has been without an assistant secretary since. On January 16, 2019, President Trump resubmitted Scott Mugno's nomination to the Senate. Although Mugno's nomination has previously moved past the Committee on Health, Education, Labor, and Pensions, his nomination has stagnated before the Senate due to a partisan stalemate on a number of Department of Labor nominees. Given the current political climate, it could be a while before the Senate agrees to vote on Mugno's nomination.
Mugno is an experienced safety leader who is expected to continue Secretary Acosta's efforts to focus on cooperative programs like the Voluntary Protection Program (VPP) and the Safety and Health Achievement Recognition Program (SHARP) and less effort on regulatory initiatives and aggressive enforcement. He is also expected to continue OSHA's enforcement initiatives against those employers who do not take seriously the obligation to provide employees with a safe and healthful work environment. Mugno's initial statement to the Committee can be accessed here.
REGULATORY UPDATE
Electronic Recordkeeping Update
On January 25, 2019, OSHA issued a final rule rescinding the provisions of the rule that required large establishments to electronically submit the 300 Logs and 301 Incident Reports. Our article discussing the final rule can be accessed on Forbes' manufacturing website. In response to the final rule, Public Citizen Health Research Group filed a complaint challenging the rule on the grounds it is "arbitrary, capricious, an abuse of discretion, and otherwise not in accordance with law." Complaint at 2, Pub. Citizen Health Research Grp. v. Acosta, No. 19-cv-166 (D.D.C. Jan. 25, 2019).
Employers required to maintain an OSHA 300 Log must post the 300A summary by February 1, 2019. OSHA's recordkeeping standard requires employers take the following steps to meet this requirement:
1. Review the OSHA 300 Log to verify that the entries are complete and accurate and correct any deficiencies identified;
2. Create an annual summary of injuries and illnesses recorded on the OSHA 300 Log;
3. Certify the summary; and
4. Post the annual summary.
29 C.F.R. § 1904.32(a). Establishments often overlook the certification requirement, so employers should be sure the 300A summary is complete and posted from February 1 through April 30, 2019.
Silica in General Industry and Maritime
OSHA recently provided some additional guidance for general industry employers whose employees have occupational exposure to respirable silica in the workplace. OSHA's frequently asked questions contain 64 separate questions and answers designed to "provide guidance to employers and employees regarding the standard's requirements." OSHA previously published a similar list of 53 frequently asked questions and answers for occupational exposure to respirable silica in the construction industry.
Beryllium
On December 10, 2018, OSHA issued a proposed rule to amend certain paragraphs of the beryllium standard for general industry in order to "satisf[y] a settlement agreement with stakeholders that had concerns about some of the provisions in the 2017 beryllium final rule." The proposed rule revises a number of definitions and provisions of the standard to clarify uncertainty in some of the original definitions and address concerns stakeholders raised with certain provisions of the original standard, such as those concerning dermal contact and medical surveillance.
INCREASED PENALTIES AND CONTINUED ENFORCEMENT
New Penalties
Effective January 23, 2019, OSHA increased the maximum penalties for Other-Than-Serious, Serious, and Failure to Abate citations from $12,934 to $13,260 per citation item. Potential penalties for Repeat and Willful citations are raised from $129,336 to $132,598 per citation item.
Drone Inspections?
BNA recently reported that in 2018, OSHA began using drones to assist compliance officers in certain inspections. Employers have expressed concerns that OSHA may use drones to try to broaden the scope of an inspection or conduct inspections without first obtaining the employer's consent. OSHA's memorandum addressing the use of drones, however, specifically states, "OSHA will obtain express consent from the employer prior to using [drones] on any inspection."
As with any requests made by compliance officers during an onsite inspection, employers should carefully evaluate the request to determine whether it falls within the scope of the inspection. If the request does not, employers should strongly consider denying the request or otherwise limiting the scope of consent to remain focused on the purpose of the inspection.
Air Contaminants
In a memorandum dated November 2, 2018 publically released by OSHA in December 2018, OSHA clarified its policy on using the General Duty Clause to cite employers for exposing employees to air contaminants not listed under OSHA's air contaminant standard. OSHA's air contaminant standard does not contain an exhaustive list of all air contaminants to which employees may be exposed. The American Conference of Governmental Industrial Hygienists (ACGIH), for example, has issued threshold limit values (TLVs) for certain chemicals for which there is no corresponding OSHA permissible exposure limit (PEL).
OSHA's memorandum clarifies that compliance safety and health officers (CSHOs) must be able to document all four required elements of a General Duty Clause citation before issuing a citation based on a failure to comply with a recommended exposure level like a TLV. Before issuing a citation, a CSHO would have to be able to demonstrate:
The employer failed to keep the workplace free of a hazard to which employees of that employer were exposed;
The hazard was recognized;
The hazard was causing or was likely to cause death or serious physical harm; and
There was a feasible and useful method to correct the hazard.
The mere presence of an air contaminant in excess of a recommended exposure limit, by itself, would not be enough to issue (or sustain) a citation. A CSHO would have to demonstrate employees were actually exposed to the air contaminant above the recommended limit and such an exposure would cause serious physical harm or death, not merely a short-term irritation. A properly implemented respiratory protection program would generally eliminate exposure and a CSHO's ability to issue a meritorious citation.
Perhaps even more significantly, the memorandum applies only to air contaminants that do not have permissible exposure limits. Employers maintain a very strong defense to any citation based on employee exposure to levels of air contaminants below the PEL but above another recommended limit. Employers should carefully evaluate and consider contesting any such citations.
REVIEW COMMISSION UPDATE
The unanticipated employee misconduct defense is one of the more prevalent affirmative defenses typically available to employers. To establish the defense, "the employer must show that it had a thorough safety program which was adequately communicated and enforced and that the violative conduct of the employee was a departure from a uniformly and effectively communicated and enforced safety rule. The employer must also show that it has taken steps to discover violations." Paramount Advance Wireless LLC, 23 OSHC (BNA) 1232 (No. 09-0178, 2010) (internal citations omitted).
A case decided by Judge Brian A. Duncan on December 11, 2018, which became a final order on January 11, 2019, illustrates an employer's safety program must contain workplace safety and health rules and guidelines specific to the alleged act of misconduct. Jacobs Field Services, North America, 2018 OSAHRC LEXIS 63 (No. 17-1402, 2018). The citation arose after an apprentice electrician was injured when an arc flash occurred while installing wiring on a 480-volt disconnect. One of the crew members performed a job safety assessment (JSA) that identified various hazards and measures to be taken to avoid those hazards. The journeyman electrician supervising the job reviewed and approved the JSA. The JSA did not, however, take into account unexpected gaps in the arc shield that divided the load side where the work was being performed and the line side, which remained energized throughout the job. As a result, the apprentice electrician working on the load side inadvertently made contact with the line side, causing an arc flash that injured the employee.
As part of its employee misconduct defense, the employer argued the apprentice should have sought help when he discovered gaps existed in the arc shield, and his failure to do so constituted misconduct. Judge Duncan rejected that argument, finding the "rule" to be "nothing more than an admonition to 'stay safe,' which has been repeatedly rejected as insufficient to support a claim of employee misconduct." Id.
The decision highlights the importance of having a robust workplace safety program that combines specific work rules and training with any necessary job- or task-specific hazard assessments. The decision does not, however, discount all general safety rules. Often, general safety rules are sufficient to protect against workplace hazards. For example, if the employer required the apprentice to wear arc-flash gloves throughout the job and the apprentice was injured because he disregarded that rule and removed his gloves, then the general PPE rule would have specifically applied to the situation and the employer could have satisfied the first element of the affirmative defense.
For other occupational safety and health insights, please visit our OSHA practice page also Forbes Magazine.