The Muhammad Ali Center, a multicultural center where partner Robert Croft serves as vice chair of the Board of Directors, has developed impactful programming serving children and adults, reaching people of all cultures, nationalities, ages, and geographic areas.
To honor the legacy of the late Louisville native, the Center partnered with Love the Hungry, a local nonprofit organization focused on providing nutrient-rich meals to alleviate and reverse the effects of malnutrition in young children. A team of volunteers, including Center staff and Board of Directors, youth volunteers, and Dinsmore staff members, filled thousands of meal pouches to feed 700 children every day for a month.
Robert considers his participation in the project to be an honor and responsibility.
"Our work at the Ali Center is a direct reflection of our core principles and the example set by Mr. Ali himself. We celebrate those principles by giving back and aligning ourselves with goals to spark change within the community. I am proud of the work we do at the Center and felt privileged to work alongside all of the volunteers for such a worthy cause," Robert said.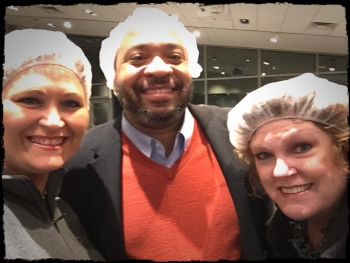 Dinsmore paralegals Brenda Goodhue and Lorna Fulkerson with Robert Croft.