Dinsmore's Calvin Buford was one of four Men of Honor, a Salute to African American Men honorees recognized during an event at the Hyatt Regency Cincinnati. Selected for his achievement in the practice of law, Buford joined honorees from the medical, humanitarian, business and entrepreneurship sectors.
"It's ironic," Calvin said. "When I began practicing, there was real trepidation among major law firms as to whether their clients would be comfortable with diverse attorneys handling their sensitive legal matters. Today, those same clients are demanding that their law firms be diverse and inclusive because they know that diverse perspectives produce better decisions, which in turn produce superior results."
Men of Honor, a Salute to African American Men celebrates "the accomplishments of extraordinary African American men who have succeeded against all odds and achieved special greatness." As part of the recognition, honorees each received a $3,000 grant to designate to an organization of their choosing that benefits African-American men.
Pictured with Calvin is Judge Nathaniel R. Jones.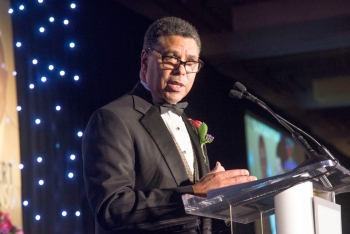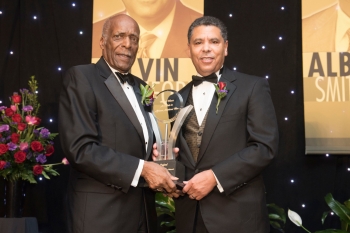 (Photo credit: Shellee Fisher)