History
More than a century after Frank F. Dinsmore opened a small law office on Cincinnati's Walnut Street in 1908, Dinsmore has evolved into a national firm with offices from coast to coast. The firm has changed, but Dinsmore's original mission has remained constant: Commitment to clients comes first.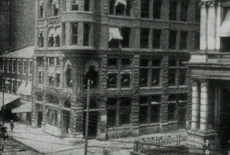 1908
Frank F. Dinsmore opens private practice on Walnut Street in Cincinnati.
1912-13
Walter M. Shohl becomes a partner at Dinsmore's practice. The firm successfully defends legendary banker George "Boss" Cox in two separate trials.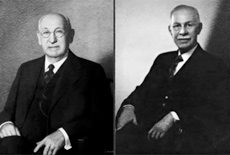 1947
Potter Stewart joins firm as an associate.
1959
Potter Stewart appointed to United States Supreme Court. Stewart would go on to famously use the phrase "I know it when I see it," to describe his threshold test for obscenity in Jacobellis v. Ohio.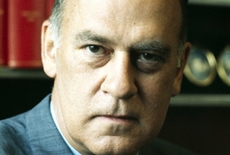 1982
After 70 years and five name changes, the firm officially becomes what was known as "Dinsmore & Shohl."
1987-1997
Dinsmore opens offices in Dayton and Columbus, Ohio; Louisville and Lexington, Kentucky.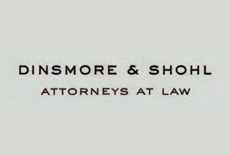 2002
Firm expands regionally with offices in Charleston, West Virginia and Pittsburgh, Pennsylvania.
2003
Firm merges with Killworth, Gottman, Hagen & Schaeff, L.L.P. in Dayton, Ohio.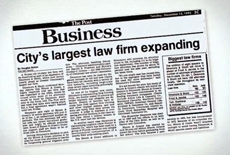 2007
Dinsmore opens offices in Morgantown and Wheeling, West Virginia.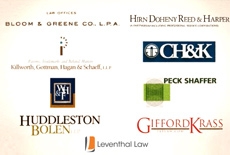 2009
Dinsmore expands further in Kentucky, opening an office in Frankfort and merging with Woodward, Hobson & Fulton, L.L.P. in Louisville and Lexington.
2011-12
Firm expands to the east coast with offices in Washington, D.C. and Philadelphia, Pennsylvania while adding another West Virginia location in Lewisburg.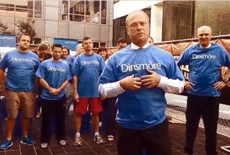 2014-15
Dinsmore merges with Peck, Shaffer & Williams in Cincinnati and Columbus, Ohio, also adding offices in Chicago, Illinois, Covington, Kentucky and Denver, Colorado.
Firm merges with Huddleston Bolen LLP in Charleston, West Virginia and Louisville, Kentucky and adds office in Huntington, West Virginia.
Firm merges with Gifford Krass and adds offices in Detroit and Ann Arbor, Michigan and Mystic, Connecticut.
Firm merges with Leventhal Law and adds an office in San Diego, California.
2017
Firm opens Cleveland, Ohio office.
2018
Firm opens Atlanta, Georgia and Los Angeles, California offices.
2019
Firm opens Boston office.
2021
Firm merges with Wooden McLaughlin and adds offices in Indianapolis, Bloomington, and Evansville, Indiana.
2023
Firm mergers with San Diego firm, Mulvaney Barry Beatty Linn & Mayers LLP.