Dinsmore partners Samuel Peppers and Thomas Bonasera attended the 29th annual David. D. White Award & Scholarship Reception in Columbus, Ohio. This event helps support the David D. White Scholarship Endowment at Capital University Law School, created by the African American Law Alumni Association. Dinsmore was recognized as an event sponsor with several judges and local prominent attorneys in attendance.
Scholarships are awarded to African American law students who have made significant contributions to serving their communities and maintaining a sense of social consciousness. The 2017-18 scholarship recipients are Jordan Singleton, 2019 J.D. Candidate; Tia Brown, 2019 J.D. Candidate; Diandra Gordon, 2020 J.D. Candidate; and Dominique Johnson, 2020 J.D. Candidate and Dinsmore 2018 summer associate. Dominique will join Dinsmore's summer class through the Columbus Bar Association's Minority Clerkship Program.
The scholarships are given in memory of the late David D. White, Capital University Law School's first African American graduate.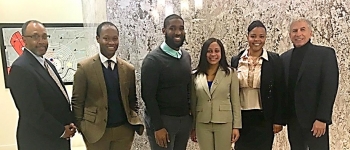 Pictured from left to right: Sam Peppers, Dominique Johnson, Jordan Singleton, Tia Brown, Diandra Gordon and Tom Bonasera.