Bankruptcy Partner Travis Bayer Joins Dinsmore as Chapter 11 Filings Skyrocket During COVID-19 Pandemic
August 17, 2020
–
News Releases
Dinsmore & Shohl LLP is pleased to welcome Travis Bayer as a partner to the firm's Cincinnati office, where he will practice with the Bankruptcy and Restructuring group. Bayer joins Dinsmore from Kirkland & Ellis LLP.
As of June, Chapter 11 bankruptcy filings were up 48 percent compared to 2019, due to the economic devastation of the COVID-19 pandemic, according to CBS News.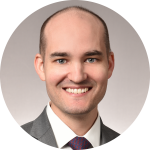 "The pandemic has been an unprecedented time to practice law in this field," Bayer said. "It's a new issue every day—just an extraordinary time to help clients navigate."
With substantial experience in Chapter 11 cases, Bayer counsels boards of directors and management of distressed companies on restructuring processes and risks. He has broad industry experience, including in the oil and gas, coal, media, manufacturing, automotive, retail, and equipment rental sectors. Clients value his input on contingency planning, case strategy, governance issues, and liability management. Bayer also advises non-profits pro bono on dissolution processes and fiduciary duties.
"Travis has done a substantial amount of bankruptcy and restructuring work for both lenders and large corporations, which will be extremely valuable for our clients," said Kim Martin Lewis, chair of Dinsmore's Bankruptcy and Restructuring group. "Dinsmore continues to be a top destination for attorneys looking to expand their practices, and Travis will provide outstanding service to our clients, especially during this unprecedented time."
Dinsmore's restructuring group regularly handles Chapter 11 filings in the eight-figure range and above. The group's attorneys counsel corporations to restructure their businesses and/or finances, including debt and equity financing, sale of business assets, and pursing other strategic alternatives.
"I'm thrilled to join Dinsmore because of the culture and the great people here," Bayer said. "We made the geographic move to get closer to family, and I'm fortunate to have the opportunity to join such a talented team."
Relocating from Chicago, Bayer earned his J.D. from Chicago-Kent College of Law and his B.S. from the University of Notre Dame. Outside of work, Bayer enjoys spending time with family, exploring the outdoors, and reading a good science fiction novel.
"We just had our third child and are really looking forward to enjoying everything Cincinnati has to offer as we settle in," Bayer said.