Dinsmore Becomes 1st Business Tenant in High-Profile City Center
May 13, 2019
–
News Releases
Dinsmore has opened its doors as the first anchor business tenant of the just-completed City Center development in downtown Lexington.
The firm occupies approximately 20 percent of the office space in the eight-story tower, with attorneys across a full range of practice areas, as well as administrative staff members.
Firm leaders say they chose to move from Lexington Financial Center not just due to the need for more space but the development's cutting-edge design and technology features as well. The change, said Office Managing Partner Chauncey Curtz, bolsters Dinsmore's ability to continue as a pace-setter in client service and quality counsel.
"In the 22 years since Dinsmore put down roots in Lexington, we've experienced considerable growth and an ever-evolving breadth of legal capabilities," said Curtz. "Our previous space was too small for us, and we were also drawn to the high-tech workspace amenities here. We're still accessible geographically to clients, but now we can offer state-of-the-art audio/visual conferencing, meeting spaces—many features that just can't be matched elsewhere in the city. We anticipate we will continue to grow, and as that happens, we will be equipped with the space and resources to do so effectively."
City Center first broke ground in 2003 and, through the course of its construction by The Webb Companies, underwent several iterations of design and name. In addition to the office tower, the development includes a full-service Marriott Hotel, a 120-room Residence Inn by Marriott with rooftop patio bar, Jeff Ruby's Steak House, retail units, a 700-car below-ground parking garage and three levels of luxury condominium residences.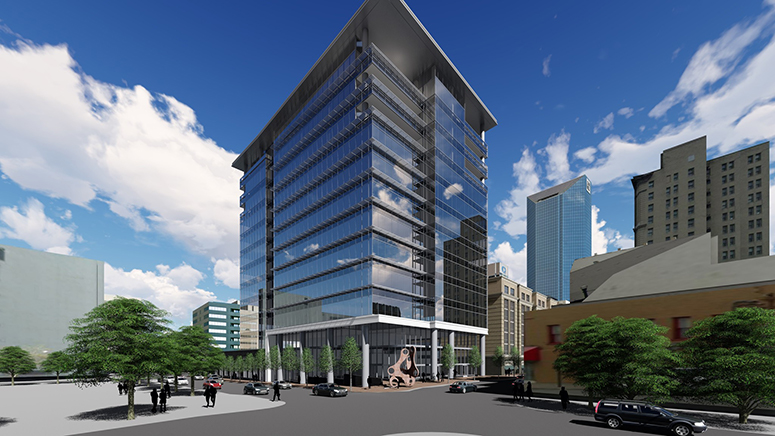 Courtesy: The Webb Companies