Dinsmore Chairman and Managing Partner George Vincent Wins Charles P. Taft Civic Gumption Award
March 9, 2020
–
News Releases
Dinsmore & Shohl LLP Chairman and Managing Partner George H. Vincent is the recipient of the 20th Charles P. Taft Civic Gumption Award. The honor was created to recognize people who work tirelessly for the good of Cincinnati and its citizens.
"Vincent's longstanding dedication to Cincinnati and his tapestry of successes make him a perfect choice for this 20th Gumption Award," the Charter Committee of Greater Cincinnati said in a press release. "[He] has spent decades dedicating himself to the improvement of the City of Cincinnati. George's time as a leader and board member of many local non-profits, colleges, museums, hospitals, and local political organizations has been founded on his fair-minded, success-oriented approach."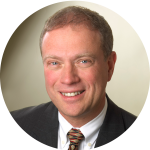 Vincent's contributions to local causes over the last decade are certainly impressive. He has been the chair, president, vice-president, trustee and/or member of many boards and foundations at various local and regional organizations, including ArtsWave's Community Fundraising Campaign (where he helped raise $11.5 million dollars), Closing the Health Gap in Greater Cincinnati, Cincinnati USA Regional Chamber, Christ Hospital, Cincinnati Art Museum, Cincinnati Metropolitan Housing Authority, Cincinnati Museum Center, Cincinnati State Technical and Community College, Greater Cincinnati Foundation, National Underground Railroad Freedom Center and the Hamilton County Board of Elections.
"I'm honored to receive this award," Vincent said. "I look forward to continuing my efforts in our region."
He joined Dinsmore in 1982 and has been the Chairman and Managing Partner of the firm since 2007. Vincent was re-elected for a fifth term in that role to begin 2020. As part of the Corporate & Transactional, Mergers & Acquisitions, Capital Markets and Government Relations practice groups, he counsels businesses with regard to strategic growth, funding and regulatory oversight. Under his leadership, Dinsmore has expanded its reach nationally, most recently opening an office in Tampa, Florida—the firm's 28th in 26 cities across the country.
The award is named for Charles P. Taft, a prominent Cincinnati lawyer who helped introduce the home-rule charter under which Cincinnati became the first major city in the United States to adopt the council-city manager form of government in 1925, making it a model for the rest of the country. Taft also served multiple terms on city council and as mayor.
Vincent will receive the award at a ceremony held at the Cincinnati Museum Center on Tuesday, March 10 at 5:30 p.m.