Dinsmore Earns Top Honors for Website Design, Development
April 12, 2018
–
News Releases
The Legal Marketing Association has selected Dinsmore as one of two winners for large-scale technology project execution as part of its 2018 Your Honor Awards. The award recognizes the design and development of the firm's recently revamped website, one of two honored in its category out of 16 entries.
"The new website offers our attorneys a terrific platform to highlight their experience and skills and does a great job of showcasing Dinsmore's commitment to serving our clients nationwide," said George Vincent, Dinsmore's Managing Partner. "We are thrilled to have the website, and the efforts of our Marketing Department, recognized through this award."
"Creating a new website was a tremendous undertaking that engaged not only our attorneys, but also every member of the Marketing Department," said Dinsmore Chief Marketing Officer Jenny Davenport. "The website is our most dynamic resource in marketing our attorneys, and we took great care to ensure the final product would truly articulate what sets Dinsmore apart. I'm honored to have our website recognized by the LMA."
The LMA Your Honor Awards program recognizes excellence in legal marketing by promoting projects and programs that showcase innovation and return on marketing dollar investment. A panel of expert judges awarded first-, second-, third-place and/or honorable mention in 16 categories, encompassing work related to business development, business of law, client services, communications, marketing management and leadership, and technology.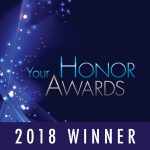 "The Your Honor Awards winners showcase the best in the legal marketing industry, from creativity and execution to achievement and overall excellence," said Betsi Roach, LMA executive director. "LMA is proud to celebrate member achievements and highlight the brilliant work our community is doing."
About the Legal Marketing Association
Founded in 1985, the Legal Marketing Association is the voice of the legal marketing and business development profession, a community that brings together CMOs to entry-level specialists from firms of all sizes, consultants and vendors, lawyers, marketers from other professions and marketing students to share their collective knowledge. LMA has eight regions and dozens of local groups across the U.S. and Canada, and its more than 4,200 members hail from 49 U.S. states and 28 countries. For more information, visit www.legalmarketing.org.