Dinsmore's BLAC-CBA Round Table Mock Interview Program
January 20, 2018
–
News Releases
The BLAC-CBA Round Table Mock Interview Program for first-year law students took place on Saturday, January 20. The program places diverse first-year law students face-to-face with legal professionals and serves as a vital first-step in their careers. Students from the University of Cincinnati College of Law, Northern Kentucky University Salmon P. Chase College of Law, and the University of Dayton School of Law are welcomed each year. Dinsmore serves as the host of the program, with approximately 10 to 15 attorneys from area law firms and companies to interview the students and give them helpful feedback. Each student receives three or more 20-minute interviews from various employers.
Dinsmore Recruiting Committee Chair, Brian Judkins, says the interviews have been a tremendous success because of the commitment from the legal community, including the students who attend and the attorneys and others who participate year-after-year. "The Mock Interview Program is an amazing resource for employers to meet great diverse talent and for the students to get warm introductions to employers. The program has led directly to job offers for some students."
Leon Hampton participated in the program and is now employed at the firm as a law clerk. "Dinsmore went to great lengths to prepare students for their upcoming OCIs. The Mock Interview Program not only provided me with valuable feedback, it granted me the opportunity to network with leaders in the legal community," Leon said.
Dinsmore partner Calvin Buford co-founded the program over 20 years ago while serving as co-chair of the Recruiting Committee of the BLAC-CBA Round Table. The program currently runs under the leadership of Dinsmore's Diversity Committee Chair Marty Dunn and Washington D.C. Office Managing Partner William Sherman lead the program for several years prior to Marty.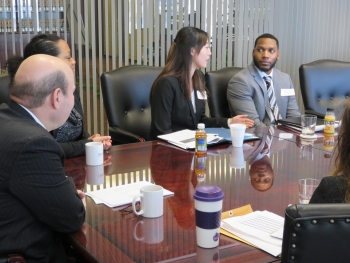 Attendees participate in a feedback session.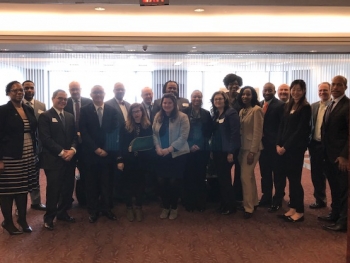 A group photo of the participants.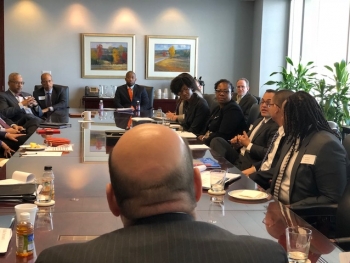 The group participates in a table discussion.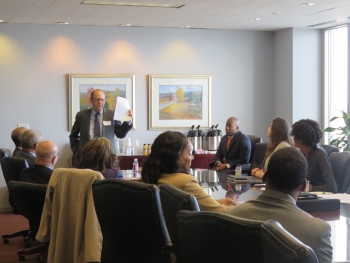 Judge Timothy S. Black, U.S. District Judge for the Southern District of Ohio, addresses the participants.