Dinsmore's Cliff Ashburner Weighs In On Future Plans For Vacant Bourbon Rickhouse
August 10, 2022
–
Quotes & Mentions
Courier Journal
Dinsmore real estate and development partner Cliff Ashburner was recently called on by Barrel House Lofts to comment on their behalf in a Courier-Journal article about a historic Louisville bourbon rickhouse that could be demolished and apartments put in its place. Ashburner has been involved in the Distillery Commons redevelopment since 2020 and now represents Missouri-based developer Bamboo Equity Partners, who is asking the city to allow the demolition.
An excerpt is below:
---
According to the owners, that initial plan was abandoned when the tax credits were denied because the lofts project wouldn't meet historic rehabilitation standards. They then tried to woo new investors to reuse the existing building but were unsuccessful, with high redevelopment costs cited as the deal breaker, ownership said in papers filed during its objection to the 2020 landmarking of the rickhouse.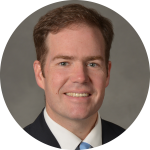 "The current owners spent quite a bit of time and certainly expended resources to try and redevelop the property," Ashburner said.
Should the city approve pending development requests, Ashburner said, Bamboo will purchase both the rickhouse property and the Distillery Commons complex for an undisclosed sum.
---
Read the entire article here: Louisville-apartment-plan-calls-for-redeveloping-historic-bourbon-site.pdf