Dinsmore's Corporate Practice Welcomes Venture Capital Power Team
June 6, 2023
–
News Releases
As the Midwest continues to attract entrepreneurs and startups at an explosive rate, Dinsmore is adding the Cincinnati-based power duo of Brett Renzenbrink and Megan Hymore to its growing and dynamic corporate practice group. Brett's experience in corporate venture law is nicely complemented by Megan's expertise in intellectual property matters across a variety of technologies.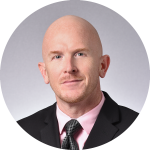 A registered patent attorney with seventeen years of experience, Megan "quickly understands a client's technology and how to translate it into value." She specializes in identifying how intellectual property can deliver tangible, additional value to startups seeking venture capital investment. Meanwhile, a self-described twice-failed entrepreneur (and Cincinnati Business Courier Forty Under 40 awardee), Brett says he understands "the stress of having real money on the line" and the need to tackle a client's issue through a business lens. Brett and Megan work as a team to ensure that IP opportunities and risks are not an afterthought – rather, they are considered during transactions, as well as throughout a startup's journey.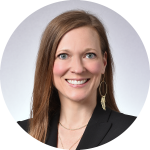 Both partners agree that business happens "at the speed of trust." When considering the move to Dinsmore, Brett noted "my driver is always to find the biggest and most fertile platform to build something special," adding "Dinsmore is nimble, moves with speed and has the business lean" that clients demand. Megan liked that the Firm's leadership "is able to swiftly recognize and act on opportunities," an extremely important trait their clients are looking for in their legal counsel.
Venture capital transactions involve significant financial risks and legal complexities related to securities, fundraising, intellectual property, privacy, corporate governance, and regulatory compliance. "The little guys fail at a decent clip," Brett said. "We are giving them the greatest odds of phenomenal growth by providing access to all of those inter-disciplinary focuses under one roof, coast-to-coast, with an entrepreneurial approach to how they are delivered at scale."
The addition of Megan and Brett will add and complement Dinsmore's deep bench of venture and corporate attorneys from coast to coast. Dinsmore regularly handles a range of corporate needs from deal structuring to due diligence to contracts and investor protections.
"We are extremely excited to have Brett and Megan as part of Dinsmore and the corporate team," said Bobby Lucas, chair of the Firm's corporate practice group. "While we have a number of attorneys who practice in the venture capital space, we do not have anyone as immersed in the practice as these two. We are excited to partner with Brett and Megan to take our venture practice to new heights."
After earning his J.D. from the Northern Kentucky University Salmon P. Chase College of Law, Brett ran the Cincinnati office of a Columbus-based law firm. He has served as the outside Chief Legal Officer for a variety of startups, in addition to developing and establishing Cincinnati-area organizations. He serves on the Board of Trustees for Whiskey and Wishes, which fundraises for youth organizations throughout Greater Cincinnati, and is the former vice-chair of the Emory Federal Credit Union Board of Directors.
Megan earned her J.D. from the Illinois Institute of Technology's Chicago-Kent College of Law. She spent a dozen years as in-house counsel for Procter & Gamble, where she handled patent, trademark, advertising, and commercial legal matters. With a desire to use her in-house perspective to help startups, she jumped to a law firm and became active in Cincinnati's startup ecosystem. She mentors entrepreneurs weekly through Alloy Development Co. and Queen City Angels' Morning Mentoring program.
Also joining Dinsmore from the partners' former firm are Jason Snyder and Fuxing "Amber" Sai. Jason will work with the commercial litigation practice group as an associate of counsel, and Amber will work with the corporate practice group as an associate. Jason earned his J.D. from the University of Cincinnati College of Law, and Amber earned her undergraduate law degree from China University of Political Science and Law, as well as her J.D. from the Indiana University Maurer School of Law.