Dinsmore's Kelvin Lawrence Talks SALT Workarounds with Bloomberg Tax
April 28, 2023
–
Quotes & Mentions
Bloomberg Tax recently wrote about Indiana, Kentucky and West Virginia joining other states that have enacted legislation to reduce the effect of the 2017 SALT cap deduction limitation for individuals who conduct business through a pass-through entity. The publication turned to Columbus based Dinsmore attorney Kelvin Lawrence to talk about differences in the application of extensions, retroactivity, estimated payments and credits that practitioners must consider when dealing with pass-through entity taxes. An excerpt is below:
---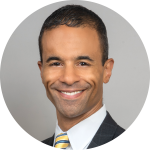 "PTE owners and their tax advisors need to carefully model the tax implications of electing into one or more of these PTE taxes, because they can have unanticipated consequences depending on the entity's business footprint, the nuances of each state's tax, and the availability of credits to the entity's ultimate owners in their states of residence for entity taxes paid," Kelvin told Bloomberg Tax.
---
You can read the full article here.