Lexington Managing Partner Talks Focus on DE&I to The Lane Report
May 18, 2023
–
Quotes & Mentions
The Lane Report
Dinsmore Lexington's Managing Partner Grahmn Morgan was included in an article in the Lane Report's May issue that explored the rising impact of Diversity and Inclusion in legal work. An excerpt is below:
---
Dinsmore & Shohl recognizes it has to work harder in states that are not as diverse, Lexington office managing partner Grahmn Morgan said, and has been very intentional about supporting initiatives in Kentucky as well as West Virginia.
"We have been able to make inroads and measurable progress," Morgan said.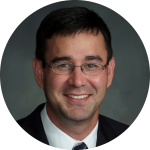 "I do not see any Kentucky firms taking a foot off the pedal when it comes to DE&I efforts and Dinsmore will continue to make it a top priority," Morgan said. "This summer, our Lexington office will welcome its third class of Kentucky undergraduate students to its unique, award winning Pre-Law Minority Program. The initiative, borne out of the racial unrest of 2020, was part of a mission started by the Firm's former chairman to come up with ways to make meaningful change in each city where it has offices. I predict that more firms will join in making diversity and inclusion a priority and an integral part of their business goals."
---
Read the entire article here.