Meredith Montrose Joins Dinsmore's San Diego Office
March 30, 2021
–
News Releases
Dinsmore & Shohl LLP has welcomed associate Meredith Montrose to the firm's San Diego office. She will practice with Dinsmore's national litigation and insurance defense groups.
"I am excited to have someone of Meredith's caliber join the firm," said San Diego Office Managing Partner Joe Leventhal. "Her academic credentials, litigation experience, and community involvement are all qualities we are looking for in attorneys to grow the office."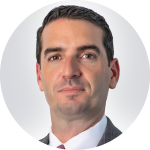 Montrose comes to Dinsmore from Wingert Grebing Brubaker & Juskie, LLP, where she worked on legal malpractice, personal injury and general commercial litigation claims. She is active with the San Diego Defense Lawyers as well as the Lawyers Club of San Diego.
Dinsmore's San Diego office opened in 2015 and has welcomed several new attorneys in recent years. The addition of Montrose follows a nationwide trend that has seen Dinsmore grow by more than 200 attorneys since 2014 and open offices in six different states since 2017.
Outside the office, Montrose teaches barre and is learning to surf. She earned her J.D. from the University of Notre Dame Law School, and received her B.B.A. in economics from Baylor University Hankamer School of Business.