Dinsmore Associate Shares Tips on European Intellectual Property for Lawyers in Indiana and Abroad
March 30, 2022

–

Articles
In the spring of 2022, Dinsmore Indianapolis attorney Esther Earbin Sandlin co-authored a piece for The Indiana Lawyer about understanding intellectual property in the European Union and what U.S. based lawyers should think about when handling overseas clients. An excerpt is below.
---
In December 2020, I returned to Indianapolis after living in Germany for nearly six years. During my time in Germany, I had the opportunity to study intellectual property law in the European Union for my Ph.D. I also had the pleasure of meeting phenomenal international attorneys who taught me the ins and outs of intellectual property in the EU.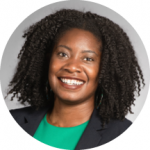 Because an article about European intellectual property rights can go on for pages, I invited one of my favorite European lawyers, Sofia Moula, to help me form a list of the most important things to know about IP in the EU. Moula is a Greek, EU-qualified lawyer (and one of my former students) working with the European Intellectual Property Office.
---

The Indiana Lawyer subscribers can read the entire article here.