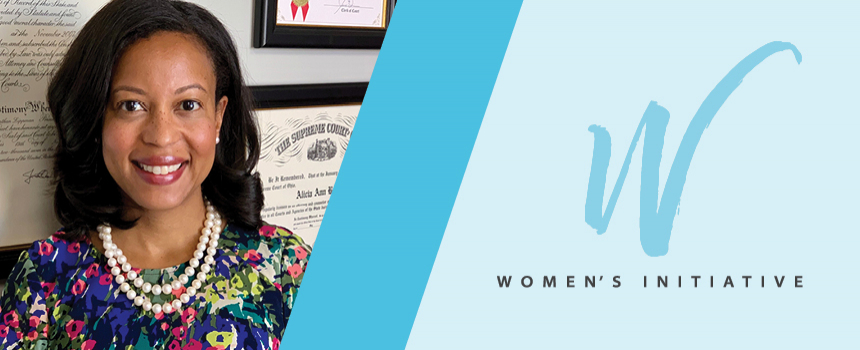 Meet Alicia Bond-Lewis, Dinsmore's Recruiting Committee Co-chair and World Traveler
As part of Dinsmore Women's Week, we are highlighting a number of the fantastic women who help make Dinsmore a thriving national entity. Next up is Alicia Bond-Lewis, whose many awards include the Lawyers of Color Hot List, Super Lawyer, and Rising Star. Alicia is a commercial litigation partner in Cincinnati. Learn more about her below.
---

1. What is your current role at Dinsmore, and can you describe your career path to success thus far?
I am a partner in Dinsmore's commercial litigation practice group and am co-chair of Dinsmore's firm-wide recruiting committee. My career path to success has been based in part on defining success by my own terms and having the courage to create my own path with the support and guidance of great mentors and sponsors.
2. Dinsmore has repeatedly been named a top national firm for women. How has the firm's focus on inclusion and equality benefited you personally?

Dinsmore's focus on inclusion and equality has created an environment where I feel comfortable and welcomed and a place where there are opportunities for women to advance, be promoted, and develop professionally. This is important particularly for women of color, since 85 percent of female attorneys of color leave big law firms before making partner, and this exit rate is not due to a lack of ambition.

3. What advice do you have for women starting their careers?
Consider climbing a corporate lattice rather than the corporate ladder. You may have to make horizontal moves to get to where you ultimately want to be, but each move will continue moving you to the top.

4. What was your first job, and what is your best story from your time working there?
I worked for Women's Policy, Inc. (now known as the Women's Congressional Policy Institute) in Washington, D.C. as an adviser to the women members of Congress. I have so many fond memories from that time period, and one moment that stands out was when I was late for a closed luncheon and was able to slip in alongside another late attendee, then-Senator Hillary Clinton. We were seated together, and I enjoyed having the opportunity to engage with her.
5. What's something people would be surprised to learn about you?
I love to travel and have been to over 25 countries. I've also lived abroad in Spain, Chile, and Argentina.