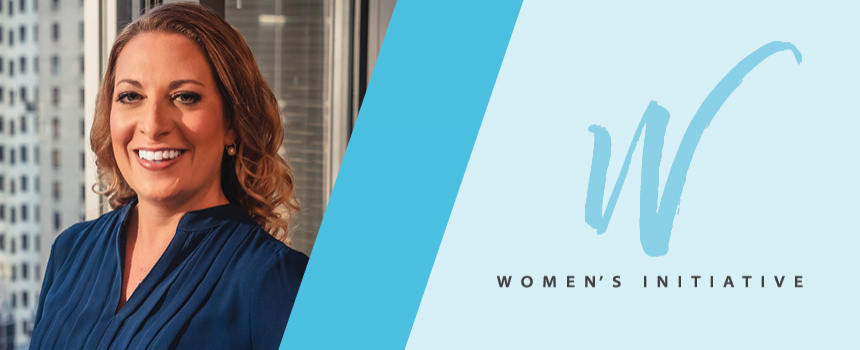 Meet Erin Farabaugh, Dinsmore Women's Initiative Committee Member
As part of Dinsmore Women's Week, we are highlighting a number of the fantastic women who help make Dinsmore a thriving national entity. Next up is Erin Farabaugh, who sits on the Dinsmore Women's Initiative Committee. Erin is a corporate and transactional partner in Pittsburgh. Learn more about her below.
---

1. What is your current role at Dinsmore, and can you describe your career path to success thus far?
I am a corporate and transactional attorney, focused on providing merger and acquisition services to privately held businesses and the private investment community, and I have the privilege of being the vice chair of the firm's Business, Acquisitions, and Securities practice group. As it relates to the practice of law, my career path was best described by an early mentor as the "zig-zag path." I was a litigator for a number of years before shifting my practice to a corporate and transactional focus. I credit my prior experience in litigation for my ability to bring practical legal advice to the senior management teams of the businesses I advise.
If I had to pick one key to a successful career in my practice area, it would be getting to know the businesses (their industry, their unique culture, etc.) I represent as if I were a member of the management team. When you do that, you are able to make the most valuable and impactful contributions with your advice. If I were to describe general, professional success, I would say it has come organically when I have fully immersed myself in the community and started from a place of wanting to positively impact the lives of the people around me.
2. Dinsmore has repeatedly been named a top national firm for women. How has the firm's focus on inclusion and equality benefited you personally?

I think of things a bit differently, because I do not think of diversity and inclusion as a personal benefit. I believe in order to be genuine in our diversity and inclusion efforts, we need to understand and truly believe in how it can positively impact the growth and success of an organization. The firm's focus and the work of our committee members and dedicated attorneys and staff members to this initiative have afforded me with the opportunity to find ways to amplify the voices of those with unique backgrounds, suggest ways we can clear barriers, and make sure we foster an environment that creates a sense of belonging for each of our colleagues. I am honored to work with so many interesting and talented people on a daily basis, and I enjoy how much I have been able to learn and grow through our interactions.
3. What advice do you have for women starting their careers?
Be unapologetically and authentically you, but don't be afraid to evolve. Bringing confidence and authenticity to all you do is so important, and it is equally as important to truly listen and learn from those you encounter throughout the course of your career. One of the skills I look for in leaders is the ability to listen and understand the life experiences and contributions of those around them, and the willingness to evolve their own perceptions and future actions based on that knowledge. If you can start doing this from the very beginning, you will be well on your way to a successful career and one you can take pride in. .

4. What was your first job, and what is your best story from your time working there?
I have been working since I was very young and have held positions in office settings, as well as the retail and restaurant industries, and even a golf course. They have each taught me something different and helped shape the person I am today. My best takeaway is that in each position I was able to meet and develop life-long relationships with so many interesting people, and in retrospect, I can see how I used each job to learn the organization and how I could contribute to its success. I have never started with an organization and moved on in the same position as when I started.
5. What's something people would be surprised to learn about you?
Thanks to their encouragement, I completed my first half-marathon last year with a great group of friends.