American Lawyer: Dinsmore's Josh Lorentz Discusses Client Accommodations During COVID-19
January 19, 2021
–
Quotes & Mentions
The American Lawyer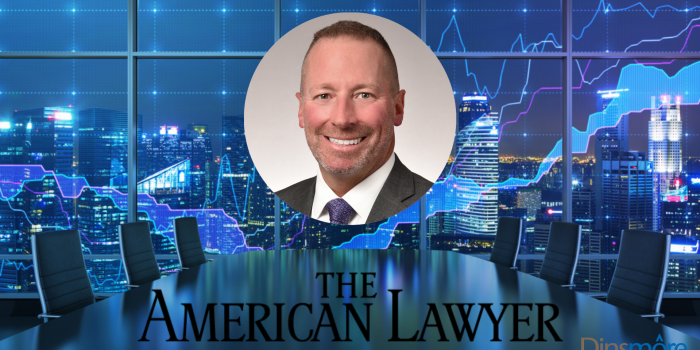 Dinsmore Intellectual Property Department and Finance Committee Chair Josh Lorentz spoke with The American Lawyer last week about rates and rising expenses for law firms in 2021 as the world continues moving through the COVID-19 pandemic. See what he had to say below about how Dinsmore can try to accommodate clients in 2021.
---
Joshua Lorentz, a partner at Dinsmore & Shohl who chairs the firm's finance committee, said the firm ended 2020 "on a solid note" and expects 2021 to be a "net gain" for business. But he said one wrinkle to the budgeting process this year is figuring out where to set rates, as clients try to forecast how much COVID-19 will alter their bottom lines again.
"I don't know that a majority of companies are asking for discounts, but perhaps discounts for new work, COVID discounts. For some clients, we're willing to lean into that," Lorentz said.
He said the firm is evaluating which clients needed breaks in 2020 and having discussions about their projections for 2021.
"And with all that information, we're able to see who needs us to lean in, who appears to be weathering the COVID situation. Then we try to budget conservatively on top of that," he said.
As an example of that conservative budgeting approach, Lorentz said Dinsmore is preparing this year's numbers as if expenses such as conferences and business travel will still go forward as they would in a pre-pandemic year.
"And if it ends up that things get canceled in February and March and in the summer, then it's additional profit for the partnership and the attorneys," he said. "But if we don't budget for it, and things suddenly get clear, it's tough to go find the money."
---
Read the full article here.