Litigation Partner Matt Wasserman and 2 Associates Join Dinsmore's Growing Chicago Office
October 27, 2020
–
News Releases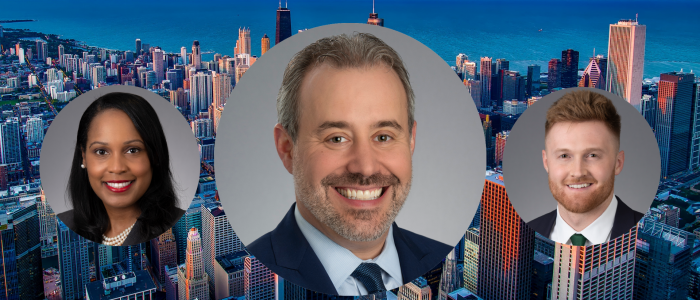 Dinsmore & Shohl LLP has welcomed commercial litigation partner Matt Wasserman to its growing Chicago office. Wasserman is Dinsmore's third new hire in the last month, following associates Brian Talcott and Helena Wright.
Wasserman joins from Golan Christie Taglia LLP, where he practiced since 2008. He focuses his work on complex commercial litigation, including business-to-business disputes, real state, shareholder and third-party administration litigation. And while his varied practice has given him impressive acumen in many areas of law, Wasserman says his best asset is his relationship-building.

"My personal relationships have allowed me to thrive," he said. "And my care for my clients is what brought me to Dinsmore, where I can expand the scope of my reach for them, considering this is a national firm and an incredibly stable environment that has withstood the storm of the pandemic. I'm excited to offer my clients the services of Dinsmore's high-quality lawyers throughout the country."
Wasserman is the 14th litigator in Dinsmore's Chicago location, which last year expanded to a new location to accommodate for its ongoing growth, and last month added Talcott to its commercial litigation group and Wright in labor and employment.

"We are incredibly excited to welcome Matt to Dinsmore. It became apparent early in our discussions that his focus on relationship-building and his entrepreneurial attitude were aligned with our focus as a firm and as an office," said Chicago Office Managing Partner Bobby Lucas. "Matt's commercial litigation experience further strengthens what is already a deep bench of litigation talent in our office. Being able to add a partner of Matt's credentials, on the heels of bringing on Brian and Helena during the pandemic, shows the strength and commitment of Dinsmore to continued growth and quality client service."
Outside the office, Wasserman is on the board of directors for Chicago Children's Advocacy Center, a local nonprofit that seeks to eradicate sexual abuse of Children in the Chicagoland area. He earned his J.D. from Chicago-Kent College of Law in 2005.