Nationally Awarded Commercial Litigator and Diversity Leader Richik Sarkar Joins Dinsmore
March 3, 2020
–
News Releases
Dinsmore & Shohl LLP is pleased to welcome new litigation partner Richik Sarkar to the firm's Cleveland office. Sarkar is a decorated attorney, having been named to Crain's Cleveland's Who to Watch in Law list in 2016, the Leadership Cleveland class of 2015 and Lawyers of Color's first Nation's Best list.
Sarkar comes to Dinsmore from McGlinchey Stafford PLLC, where he was a complex consumer and commercial litigation attorney as well as chief privacy officer. He is the 13th attorney to join Dinsmore in Cleveland since the office opened in 2017. The firm now offers litigation, intellectual property, workers' compensation, public finance, mergers and acquisitions, and environmental services in Cleveland.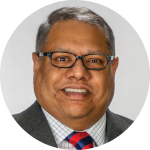 He advises clients of all sizes in media, technology, utility, real estate, finance, retail, and other industries. He spearheads commercial, consumer, and cybersecurity complex and class-action litigation. In all cases, Sarkar provides commercial judgment and legal intelligence strategically to make his clients successful.
"I'm a business-minded litigator," Sarkar said. "Litigation comes last, not first. The entire process is about solving the underlying problem of the case."
Sarkar previously practiced at McDonald Hopkins LLC alongside current Dinsmore partners Jim Dimitrijevs and Grant Monachino, the former of whom is Dinsmore's office managing partner in Cleveland.


"Richik brings to our growing office not only his litigation experience, but also his extensive connections in Northeast Ohio and throughout the country with innovators and leaders in business and law," Dimitrijevs said. "And importantly, the collegial culture of our office has been enhanced by the addition of Richik and his affable nature."
Sarkar was attracted to the opportunity to rejoin Dimitrijevs and Monachino, but he was convinced Dinsmore was the right firm when he learned of its commitment to diversity and inclusion.
"At last year's LCLD (Leadership Council on Legal Diversity) symposium in Cincinnati, every Dinsmore fellow from every office across the country was there," Sarkar said. "I was so impressed with that commitment. There are more diverse partners at Dinsmore than total partners at some other firms. I'm passionate about diversity and inclusion, and so is Dinsmore. The numbers prove it, and that is both satisfying and comforting as a business person to deliver both legal knowledge and cultural significance to my clients."
A former LCLD fellow himself, Sarkar is now the vice chair of the group's outreach committee. He is also a member of the Greater Cleveland Partnership's Commission on Economic Inclusion, and he serves on the American Bar Association's Diversity and Inclusion Committee.
"One of my passions is promoting diversity in the business world," Sarkar said. "I help company boards diversify their membership and guide companies toward a better understanding of diversity issues. Then I give them the tools to address those things."
Sarkar originally hails from Michigan. He earned his B.A. and MSW from the University of Michigan before receiving his J.D. from Case Western Reserve University School of Law, after which he put down roots in Cleveland. Twenty-five years later, he is a stalwart of the legal and business communities and a significant piece of Dinsmore's continued growth in the city.