Dinsmore Jumps 8 Spots in American Lawyer's 2020 A-List Female Equity Partner Scorecard
August 26, 2020
–
News Releases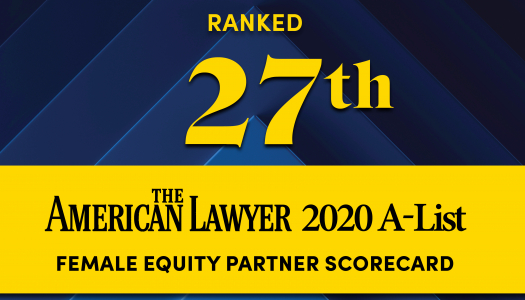 The American Lawyer released its annual A-List Female Equity Partner Scorecard on August 20, and Dinsmore is among the top firms listed, with its ranking of 27th, up from 35th in 2019.
The scorecard ranks the female equity partner percentage of 184 United States-based law firms. At the time of publication, Dinsmore's 39 female equity partners made up 24.5 percent of its equity partner population, resulting in the No. 27 ranking nationally.

"While there is always work left to do, we're proud of the progress we've made in retaining and promoting women attorneys to equity partnership," said Dinsmore Women's Initiative Chair Stacey Borowicz. "Dinsmore is committed to the advancement of women, because when women achieve more, we all achieve more."
Borowicz was named office managing partner of Dinsmore's Columbus office in 2019, making Dinsmore the top-ranked female-led firm in the capital city. Dinsmore was also named a top-100 firm for women by Women Inc. magazine last year and has placed in the top 90 of the National Law Journal's Women's Scorecard five times since 2015.
The eight-spot jump in the Female Equity Partner Scorecard is consistent with Dinsmore's performance in other national rankings in 2020. Earlier this summer, Dinsmore made the largest year-over-year leap of any law firm in the NLJ 500, coming in at No. 77, up nine spots from 2019.