Capital Markets
Experience
Hedge Fund Formation
Represented registered investment adviser in forming a $125,000,000 hedge fund specializing in New Zealand and Australian investments.
Venture Capital Financing
Represented group venture funds in $15,000,000 "A" round preferred stock financing of North Carolina biotech firm.
Customer's Counsel in Finance and Accounting Outsourcing Transaction
Our client is a publicly traded company l corporation in the water purification and treatment industry. They were seeking to outsource significant finance and accounting functions to a third-party supplier for the first time. In conjunction with their outside consulting firm, we assisted the client in the full transaction lifecycle, including building out the RFP package, assessing bids and down selecting, dual track negotiations, final business award, comprehensive drafting and negotiation, contract execution and transition period guidance. The core project spanned over four months. This complex outsourcing agreement was comprised of over 50 distinct contract documents, and the services covered over 130 different countries. We worked closely with our client's finance, IT, procurement and tax teams and directly negotiated with the supplier's business and legal teams. Given the volume and complexity of the documents, terms and stakeholders, attention to detail, focus and organization was at a premium. Ultimately, we got the deal closed on favorable terms and stand ready to continue to support the client as appropriate throughout the transition period and following "go-live."
Drafted, Negotiated and Executed a Revised BPO and ADM Contract
When the contract governing our client's application development & management and business process outsourcing relationship with one of its strategic partners was coming to term and a revised commercial bargain had been struck, we were called to assist. We began by drafting and negotiating a large scale amendment to the existing agreement. Execution of the amendment served to extend the term of the relationship and lock in terms representing major commercial wins for our client, while also contemplating good faith negotiations of an overarching restatement of the contractual relationship using our client's updated forms. We then proceeded to negotiate and manage execution of that restatement project, which required thoughtful drafting and structuring in order to carry forward a large set of legacy work statements under new legal and commercial terms. The restated contract will yield significant dividends in the form of increased clarity and more favorable legal and economic terms.
Provided Outside In-House Counsel Services for Commercial Contracts
We provided ongoing commercial contract support services to our client in connection with some of its key customer and subcontractor agreements. A half-day visit to the client's site to tour the facility and meet key stakeholders along with time familiarizing ourselves with our client's form documents and contractual "pressure points" was all that was needed to immediately add value in an "outside in-house counsel" capacity. We assisted our client in both RFP-based opportunities as well as closed-loop negotiations of master service agreements with both new and existing customers.
Represented a Privately Held Software Company Through an Asset Sale
We supported the sole-owner of a privately held software company in the sale of substantially all of the company's assets to a private equity portfolio company in an add-on acquisition. The total potential valuation was approximately $25 million, including cash, rollover equity and earn outs. We navigated from LOI through closing, including due diligence, disclosure schedules, ancillary documentation and consents.
Represented an Automotive Manufacturer in a Multimillion Dollar Real Estate Leaseback
Our client, an automotive component parts manufacturer, made the strategic financial decision to sell substantial real estate holdings valued at approximately $25 million to a REIT and subsequently lease those properties back under a long-term tenancy. We assisted in the drafting and negotiation of the definitive purchase and sale agreement, the master lease agreement and all associated ancillary documents and deliverables. Simultaneously, our firm represented the auto parts manufacturer in an asset-based financing arrangement and a specialty asset financing arrangement, each of which included closing of the sale-lease transaction as a condition. This required careful coordination among multiple practice groups and team members within the firm to ensure these separate but interdependent transactions all came to fruition in sync and under favorable terms for our client.
Represented an IoT assets and SaaS solution Provider Through the Negotiation of a Specialized Technology Distribution Agreement
Our client manufactures and distributes IoT (Internet of Things) hardware and SaaS (Software as a Service) products and solutions to quick service and fast casual restaurants, convenient stores and other retailers that provide various monitoring and reporting services related to the operations of their respective businesses. Another company with complementary hardware products sought our client as a strategic distribution partner whereby the two companies' products would be combined and marketed as a bundled product and SaaS offering. Through a combination of internal reviews, bi-lateral negotiation sessions and careful drafting work, we assisted our client in negotiating a specialized technology distribution agreement. The initial version of the agreement was heavily favorable toward the counterparty and not a proper fit for the unique nature of the deal. This led to multiple iterations of the agreement and protracted negotiations, but we were able to cost effectively provide counsel and deliver quality work product by teeing up risk-based analysis for the client. This then empowered their stakeholders to make quick, informed decisions. Ultimately, the parties executed an agreement that was much more appropriate and balanced than the initial draft, and which will set them up for a mutually successful strategic partnership.
Financial Institutions M&A: Tax Free, Stock for Stock "Merger Conversion"
Client: Large Publicly-Held Bank Holding Company
Represented numerous thrifts, community banks and large financial institutions in numerous mergers and acquisitions, including a complex transaction involving representing a large publicly-held bank holding company in its acquisition of a mutual savings bank in a simultaneous mutual-to-stock conversion and stock-for-stock merger.
Client Settlement
Principal representative of a major investment bank and Fortune 20 company in an industry-wide group that obtained precedent-setting relief from the SEC that effectively permitted settlement of significant litigation with the SEC and state attorneys general affecting more than $60 billion in securities, Auction Rate Securities -- Global Exemptive Relief.
Securities Counsel
Devised successful defense strategy for Fortune 100 client in the energy services business in a widely reported SEC investigation. Managed client team in responding from discovery through a substantial internal investigation and multiple Wells submissions.
Outside General Counsel to a Growing Brand
Client: MadTree Brewing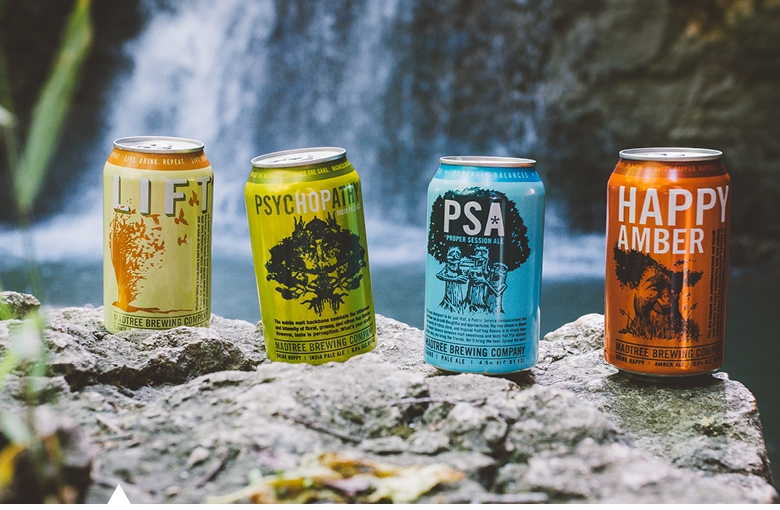 When Kenny McNutt, Brady Duncan and Jeff Hunt had a dream to open their own craft brewery, they sought legal guidance from Dinsmore. By the time Cincinnati's MadTree Brewing opened in 2013, our attorneys had already played a significant role in its development – from helping to raise the original capital to structuring and executing loan financing.
"Dinsmore gives peace of mind and guides us through murky waters," said McNutt. "They're reputable, and I always know I get the best answer for the information available at the time."

Today, Dinsmore serves as MadTree's outside general counsel, advising on contracts, real estate, trademark, employment matters, securities and other legal needs as they arise.
"They have every facet we need, and they're super easy to work with," added McNutt. "I recommend them whenever anyone asks. They're trustworthy, really, really good and well worth the peace of mind."
---
MadTree was the first modern craft brewery to can its beer in Ohio, and, within four short years, the brewery had grown so significantly they opened an $18 million facility to accommodate larger crowds and increased demand for production. Dinsmore attorneys were with them every step of the way.
Represented a Bank Holding Company in an Acquisition
Client: United Bancshares, Inc. (Buyer)
We counseled our client (United Bancshares, Inc.) through its merger with another bank (Benchmark Bancorp Inc.). The merger allowed our client to expand their presence in the Columbus, Ohio market. Our role included negotiating terms, drafting documents, preparing regulatory applications, preparing securities disclosures and closing the transaction.
Seller's Counsel in Equity Sale
We supported a closely-held business with a STEM-oriented bundled software and kit product offering in the sale of all its equity to a private-equity backed buyer. Having worked both with and across from private equity portfolio companies across the country, we were able to bring significant knowledge to bear in terms of process, pain points and "what's market." This helped keep the client grounded and protected from overreach. Closing represented a successful and well-deserved exit for our client's principals.
Represent Clients in Multiple Matters Including Regulatory Litigation
Chuck Hertlein and Seth Schwartz have represented Vantage Financial Advisers, a financial advisory firm, in multiple matters including regulatory litigation and claims brought by clients related to investment losses outside of Vantage's control.
Represented Minority Shareholders in Dissenters' Rights Derivative Action
In this matter, minority shareholders retained Seth Schwartz to represent them in a dissenter's rights derivative action. Prior to a large transaction, the company instituted a reverse 149:1 stock split, which caused the elimination of the ownership of certain minority shareholders. These minority shareholders dissented to the transaction and engaged in limited derivative litigation with the company. This matter was settled to our client's satisfaction.
Dinsmore counsels Lexmark International to acquire Kofax Limited for $1 billion
In a major technology deal, Dinsmore counseled Lexmark International, Inc., a Lexington, KY manufacturer of laser printers and provider of enterprise software services, in the acquisition of Kofax Limited, a software provider incorporated in Bermuda and headquartered in Irvine, CA. Pursuant to the Merger Agreement, Lexmark paid $11.00 per share in cash to acquire all issued and outstanding common shares of Kofax for a total enterprise value of approximately $1 billion.

"This was a very competitive public bid process," said Susan Zaunbrecher, Chair of the Corporate Department. "The relationship we've built with Lexmark was crucial to how smoothly this acquisition transpired."

Dinsmore has served as deal counsel to Lexmark in more than 10 transactions, including the acquisition of Perceptive Software, Inc., Lexmark's first acquisition in the enterprise software industry, and the divestiture of Lexmark's inkjet business.
Sale of a Geospatial Business to Private Equity Firm
We counseled a geospatial business in all aspects of its sale to a private equity firm that was part of a roll-up of geospatial solution providers. We advised the client at each step of the transaction, including negotiating the term sheet, responding to due diligence, structuring the transaction, negotiating the purchase documents and executing the closing of the transaction. The sale was completed efficiently and to the satisfaction of the client.
Cross-Border Acquisition by Merger and Stock Purchase
Represented a U.S. public company in its acquisition of a Canadian/Swiss sporting goods importer/reseller in parallel Canadian stock purchase and SEC-registered U.S. stock merger transactions.
$5M Private Stock Placement
Our firm represented iHigh.com, Inc., a high school youth marketing and Internet company, in connection with a $5M private stock placement. We prepared the Private Placement Memorandum and coordinated the closing of the offering. The capital raised enabled the client to expand its Internet footprint and broaden its business opportunities and market presence.
Anonymous Plaintiffs v. Securities Company
Our firm represented the Plaintiffs in two separate suits for fraud, each in the amount of $1,000,000, against a securities company related to investment in a start-up company.  Both cases were settled favorably prior to arbitration.
Cash Merger
Sale of publicly-traded company to another publicly-traded company in registered S-4 transaction.
Counsel on Multi-year Financing Plan
Guided Fortune 100 client through a multi-year financing plan to facilitate acquisitions, dispositions, joint ventures, the offer and sale of debt and equity securities and the restructuring of its balance sheet resulting in transforming the client from a $2 billion local gas distribution company to $7 billion interstate pipeline company over a period of seven years.
Initial Public Offering
Initial public offering.
Initial Public Offering
Acted as underwriter's counsel in initial public offering for restaurant.
Merger; Stock Purchase; Initial Public Offering
Simultaneous "roll-up" acquisition of seven different CAD/CAM resellers in cash/stock mergers funded by an initial public offering.
Private Offering of Oil and Gas Drilling Interests
Represented the promoters in the private placement of at-risk drilling interests for Ohio oil and gas.
Private Offering of Oil and Gas Drilling Interests
Represented the promoters in the private placement of at-risk drilling interests for Ohio oil and gas.
Private Placement
Represented a development stage software company in a series of private equity transactions.
Private Placement of Securities
In 1999 our firm represented iHigh in connection with a $10 million private placement of securities under Rule 506 of Regulation D of the Securities Act of 1933. This offering enabled the company to raise the capital necessary to build a nationwide network of high school Internet sites which are today operated as an Internet community for teenagers.