Securities
Experience
Financial Institutions M&A: Tax Free, Stock for Stock "Merger Conversion"
Client: Large Publicly-Held Bank Holding Company
Represented numerous thrifts, community banks and large financial institutions in numerous mergers and acquisitions, including a complex transaction involving representing a large publicly-held bank holding company in its acquisition of a mutual savings bank in a simultaneous mutual-to-stock conversion and stock-for-stock merger.
Client Settlement
Principal representative of a major investment bank and Fortune 20 company in an industry-wide group that obtained precedent-setting relief from the SEC that effectively permitted settlement of significant litigation with the SEC and state attorneys general affecting more than $60 billion in securities, Auction Rate Securities -- Global Exemptive Relief.
Securities Counsel
Devised successful defense strategy for Fortune 100 client in the energy services business in a widely reported SEC investigation. Managed client team in responding from discovery through a substantial internal investigation and multiple Wells submissions.
Outside General Counsel to a Growing Brand
Client: MadTree Brewing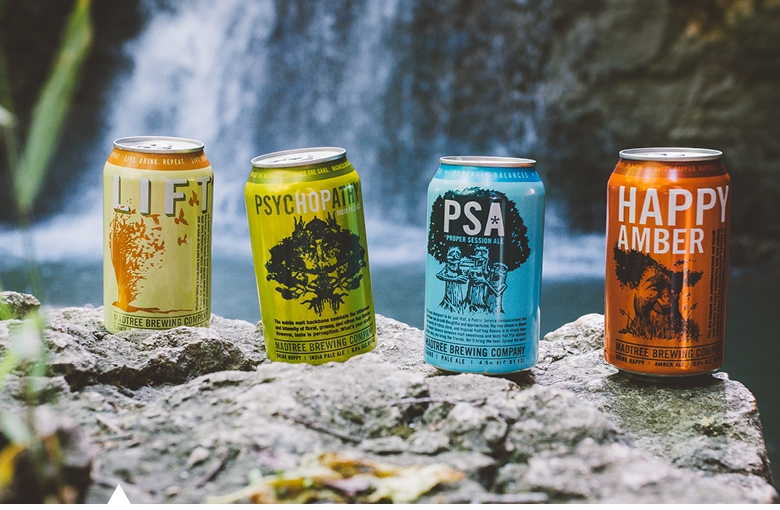 When Kenny McNutt, Brady Duncan and Jeff Hunt had a dream to open their own craft brewery, they sought legal guidance from Dinsmore. By the time Cincinnati's MadTree Brewing opened in 2013, our attorneys had already played a significant role in its development – from helping to raise the original capital to structuring and executing loan financing.
"Dinsmore gives peace of mind and guides us through murky waters," said McNutt. "They're reputable, and I always know I get the best answer for the information available at the time."

Today, Dinsmore serves as MadTree's outside general counsel, advising on contracts, real estate, trademark, employment matters, securities and other legal needs as they arise.
"They have every facet we need, and they're super easy to work with," added McNutt. "I recommend them whenever anyone asks. They're trustworthy, really, really good and well worth the peace of mind."
---
MadTree was the first modern craft brewery to can its beer in Ohio, and, within four short years, the brewery had grown so significantly they opened an $18 million facility to accommodate larger crowds and increased demand for production. Dinsmore attorneys were with them every step of the way.
Represented a Bank Holding Company in an Acquisition
Client: United Bancshares, Inc. (Buyer)
We counseled our client (United Bancshares, Inc.) through its merger with another bank (Benchmark Bancorp Inc.). The merger allowed our client to expand their presence in the Columbus, Ohio market. Our role included negotiating terms, drafting documents, preparing regulatory applications, preparing securities disclosures and closing the transaction.
Represent Clients in Multiple Matters Including Regulatory Litigation
Chuck Hertlein and Seth Schwartz have represented Vantage Financial Advisers, a financial advisory firm, in multiple matters including regulatory litigation and claims brought by clients related to investment losses outside of Vantage's control.
Represented Minority Shareholders in Dissenters' Rights Derivative Action
In this matter, minority shareholders retained Seth Schwartz to represent them in a dissenter's rights derivative action. Prior to a large transaction, the company instituted a reverse 149:1 stock split, which caused the elimination of the ownership of certain minority shareholders. These minority shareholders dissented to the transaction and engaged in limited derivative litigation with the company. This matter was settled to our client's satisfaction.
Dinsmore counsels Lexmark International to acquire Kofax Limited for $1 billion
In a major technology deal, Dinsmore counseled Lexmark International, Inc., a Lexington, KY manufacturer of laser printers and provider of enterprise software services, in the acquisition of Kofax Limited, a software provider incorporated in Bermuda and headquartered in Irvine, CA. Pursuant to the Merger Agreement, Lexmark paid $11.00 per share in cash to acquire all issued and outstanding common shares of Kofax for a total enterprise value of approximately $1 billion.

"This was a very competitive public bid process," said Susan Zaunbrecher, Chair of the Corporate Department. "The relationship we've built with Lexmark was crucial to how smoothly this acquisition transpired."

Dinsmore has served as deal counsel to Lexmark in more than 10 transactions, including the acquisition of Perceptive Software, Inc., Lexmark's first acquisition in the enterprise software industry, and the divestiture of Lexmark's inkjet business.
Sale of a Geospatial Business to Private Equity Firm
We counseled a geospatial business in all aspects of its sale to a private equity firm that was part of a roll-up of geospatial solution providers. We advised the client at each step of the transaction, including negotiating the term sheet, responding to due diligence, structuring the transaction, negotiating the purchase documents and executing the closing of the transaction. The sale was completed efficiently and to the satisfaction of the client.
Cross-Border Acquisition by Merger and Stock Purchase
Represented a U.S. public company in its acquisition of a Canadian/Swiss sporting goods importer/reseller in parallel Canadian stock purchase and SEC-registered U.S. stock merger transactions.
$5M Private Stock Placement
Our firm represented iHigh.com, Inc., a high school youth marketing and Internet company, in connection with a $5M private stock placement. We prepared the Private Placement Memorandum and coordinated the closing of the offering. The capital raised enabled the client to expand its Internet footprint and broaden its business opportunities and market presence.
Anonymous Plaintiffs v. Securities Company
Our firm represented the Plaintiffs in two separate suits for fraud, each in the amount of $1,000,000, against a securities company related to investment in a start-up company.  Both cases were settled favorably prior to arbitration.
Cash Merger
Sale of publicly-traded company to another publicly-traded company in registered S-4 transaction.
Counsel on Multi-year Financing Plan
Guided Fortune 100 client through a multi-year financing plan to facilitate acquisitions, dispositions, joint ventures, the offer and sale of debt and equity securities and the restructuring of its balance sheet resulting in transforming the client from a $2 billion local gas distribution company to $7 billion interstate pipeline company over a period of seven years.
Hedge Fund Formation
Represented registered investment advisor in forming a $125,000,000 hedge fund specializing in New Zealand and Australian investments.
Initial Public Offering
Initial public offering.
Initial Public Offering
Acted as underwriter's counsel in initial public offering for restaurant.
Merger; Stock Purchase; Initial Public Offering
Simultaneous "roll-up" acquisition of seven different CAD/CAM resellers in cash/stock mergers funded by an initial public offering.
Private Offering of Oil and Gas Drilling Interests
Represented the promoters in the private placement of at-risk drilling interests for Ohio oil and gas.
Private Offering of Oil and Gas Drilling Interests
Represented the promoters in the private placement of at-risk drilling interests for Ohio oil and gas.
Private Placement
Represented a development stage software company in a series of private equity transactions.
Private Placement of Securities
In 1999 our firm represented iHigh in connection with a $10 million private placement of securities under Rule 506 of Regulation D of the Securities Act of 1933. This offering enabled the company to raise the capital necessary to build a nationwide network of high school Internet sites which are today operated as an Internet community for teenagers.
Public Debt Call
Represented the issuer of publicly-held debentures in a call and redemption transaction.
Recapitalization
Represented registered investment advisor in recapitalization transaction.
Roll-Up Acquisition
Five simultaneous acquisitions of independent, competing ambulance services utilizing various structures (stock purchase, merger, stock exchange) to optimize tax consequences and private placement of equity securities to obtain necessary funding.
SBIC Venture Capital Fund Formation
Represented the founders of a venture capital fund in the formation of the fund.
Secondary Public Stock Offering
Acted as issuer's counsel in secondary public offering.
Securities Counsel
Advised clients on strategies to avoid significant liability under the short-swing profit rules of Section 16(b) of the Securities Exchange Act of 1934.
Securities Counsel
Advised semiconductor company through major "options backdating" investigations regarding the restatement of its financial statements, delisting and relisting on NASDAQ, worked with internal counsel, accounting and treasury personnel and outside consultants to recreate financial statements, represented company in obtaining related regulatory relief from the SEC.
Shareholder Proxy Contest
Dinsmore & Shohl represented a public bank holding company in a shareholder proxy contest.