Equine Industry
Experience
Real Life Background = Real World Legal Advice
Client: Split Rock Jumping Tour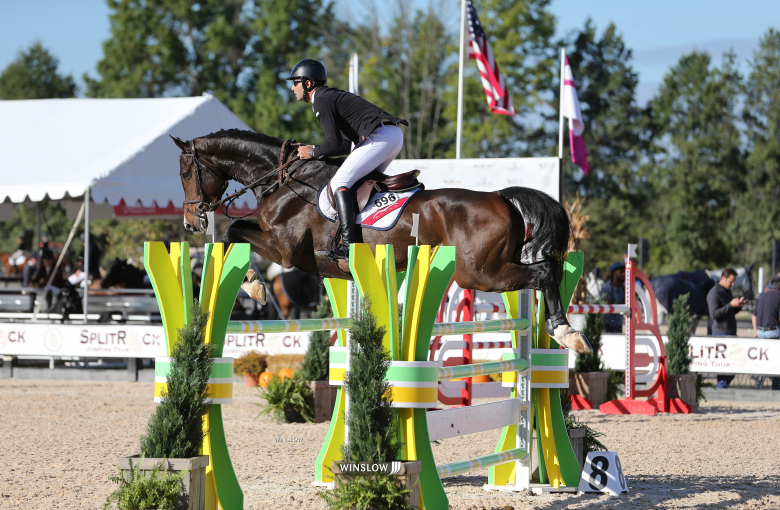 Derek Braun needs more than a corporate attorney when conducting business for his Split Rock Show Jumping Tour company based Lexington, Ky. He needs an attorney with in-depth knowledge and experience working in the equine industry. Dinsmore attorney Laura Holoubek and her team have been meeting those needs for more than a decade. Laura advises national and international clients on all types of equine matters, chaired the University of Kentucky College of Law's Annual National Equine Law Conference for six years, and established the Equine Law program at the university as an adjunct professor, the first of its kind in the nation.
"Her equine law experience is invaluable for me," Derek said. "Like in any other industry, you need someone who knows the (business') ins and outs."

"Laura is unique as she also is a competitor so she brings her horse background along with business and legal expertise to the discussion."
When Derek purchased a farm and established the Split Rock Jumping Tour, Laura and her team began providing counsel on his business, real estate, intellectual property and equine-specific needs. Over time, the tour has steadily grown from one to eight events in six states annually, and it is revered by top equestrian competitors, owners, and sponsors. Laura and her Dinsmore team continue to advise Derek on matters including USEF and FEI horse show date applications; vendor, judge, and steward agreements; live-streaming agreements; software application development agreements; sponsorship and management agreements, liability, employment matters; and general advice involving the tour's conduct and operation. This counsel ensures Derek can both grow his business and pursue his passion.
---
Photo credit: Winslow Photography
Assisted Client through LLC Formation and Tenant Troubles
Client: A Horse Stable Owner
We formed the client LLC and facilitated transfer of a farm into the LLC. We worked with the client to negotiate a lease agreement with a horse trainer interested in leasing the property. After advising the client on several issues related to the trainer's compliance with the lease, we assisted the client in declaring the trainer to be in default, terminating the lease agreement, and initiating and completing forcible detainer proceedings to evict the trainer. We then assisted the client in negotiating a new lease agreement and a settlement agreement with the trainer.
Assisted Client with the Formation of a Horse Boarding Operation
Client: A Horse Stable Owner
Our client purchased a farm in Shelby County with the intent to start a horse boarding operation. In conjunction with the client's accountant, we advised them on entity formation and formed two LLCs to hold the real estate and run the business, respectively. We prepared a lease agreement for the business LLC to lease the farm from the property LLC, and we facilitated transfer of personal property (horses) into the business LLC. We also advised the client on risk management and insurance issues relating to a boarding operation.
Counseled Client through Settlement with Veterinarian
Client: A Purchaser of a Show Horse
Our client purchased an American Saddlebred show horse in reliance upon a pre-purchased examination performed by a local veterinarian. The examination failed to note navicular cysts in both front feet despite the cysts being visible on radiographs taken during the exam. The horse became chronically lame and required management for the rest of his life. We assisted our client in submitting a claim to veterinarian's malpractice insurer and in negotiating a settlement without the need for litigation.
Ongoing Counsel to Show Horse Training Barn
Client: A Horse Stable
Our client is an American Saddlebred training operation with show horses and a large lesson program. Over the years, we have advised the client on reinstatement of the LLC, registration of an assumed name, property lease negotiations, and collections matters. In addition, we have prepared show horse lease agreements and advised on general risk management issues.
Outside Counsel for Nonprofit Horse Rescue
Client: Saddlebred Rescue, Inc.
Saddlebred Rescue, Inc. (SBR) is a non-profit horse rescue based in New Jersey. We serve as SBR's outside counsel and advise on corporate governance and non-profit best practices. We also prepare adoption agreements and advise on a variety of issues related to fundraising, social media, and staffing.
Pro Bono Counsel to Historic Riding Club
Client: A Riding Club
Our client is a historic riding club with 501(c)(3), and we assist with pro bono legal work. We have prepared license and lease agreements, advised on property valuation issues, and counselled on insurance and liability issues for both the club and its annual horse show.
Advising Training Stable Operator on Business Matters, Litigation
This client maintains a training barn and lesson program in Kentucky. Our work includes general business advice, collections litigation, liability waivers and risk management, counseling on disputes with customers, bills of sale, agency/commission disclosure obligations and boarding and training contracts.
Counsel to Saddlebred Rescue, Inc.
We serve as outside general counsel for a non-profit 501(c)(3) horse rescue based in New Jersey. Saddlebred Rescue purchases horses from auctions and sales where they are at risk for slaughter, rehabilitates any health concerns and uses a professional trainer to evaluate the horses, determine their level of training and suitability and place them into an appropriate home. Our work for Saddlebred Rescue includes handling corporate compliance, insurance and fundraising issues, drafting and guiding policies on social media use and revising adoption contracts and releases. We also assisted Saddlebred Rescue throughout the application process to become "Verified" by the Global Federation of Animal Sanctuaries (GFAS).
Represent Account Wagering Companies
Represented account wagering companies (online handicapping) in acquisition of various state licenses (Oregon, North Dakota, Kentucky, etc.), and continued regulatory compliance at the state level including representation before the Racing Commission.
Advise International Gaming Companies
Ongoing counsel to international gaming companies on U.S. gaming law (civil and criminal) including the Wire Act, Interstate Horseracing Act, and Unlawful Internet Gambling Enforcement Act (UIGEA), simulcasting agreements, trademarks and other intellectual property protection, and foreign entity qualification in various state jurisdictions.
Representation of Non-Profit Equine Trade Associations
Ongoing counsel to various not-for-profit equine trade associations. Work includes advice on corporate governance, rule book compliance, hearing committee, intellectual property protection, employment agreements, election protocol and general contract work.
Racetrack Counsel
Represented client in acquisition of thoroughbred racetrack and subsequent sale including representation before the Michigan Racing Commission.

Represented client in ownership of interest in racetrack in Kentucky, including representation before the Kentucky Racing Commission. Advised on legal status of instant racing.

Drafted rules and regulations for online fantasy handicapping tournaments including compliance with state and federal law.

General Counsel for premier racetrack in Florida. Advised on all aspects of racetrack management including pari-mutuel wagering, regulatory compliance, simulcasting contracts, condition book, stall applications, and general business contracts including food service and on-track veterinary services.
Equine
Draft and negotiate purchase and sales agreements for racehorses, stallion prospects and elite show jumpers and hunters.

Draft and negotiate stallion syndicate agreements for premier stallion farms. Drafted and/or negotiated agreements for BIG BROWN, GHOSTZAPPER, AWESOME AGAIN, WAR PASS, FLOWER ALLEY, POINT OF ENTRY, FORT LARNED, DIALED IN, ICEBOX, BRILLIANT SPEED and many others.

Draft and negotiate mare share agreements, stallion service contracts, foal share agreements, pinhooking partnerships, artificial insemination and embryo transfer agreements.

Formation of racing partnerships and advise and negotiate choice of entity, terms of management, transfer provisions and regulatory compliance.

Draft and negotiate purchase and sale agreements and co-ownership agreements for elite show jumpers and three-day event horses.

Draft lease agreements for competitive show horses and ponies and racehorses.

Advised show jumping operation regarding obtaining USEF and FEI show dates, and all contractual aspects of hosting FEI CCI*** competition.

Advise sport horse and thoroughbred and standardbred farms in all aspects of operations including boarding contracts, lease agreements, bills of sale, releases and waivers, liability, local and state regulatory matters, lien placement and collection of payment due.

Represented client in purchase of horse show dates and compliance with USEF license transfer and compliance.

Purchase and sale representation of thoroughbred and sport horse farm real estate.

Equine and Middle Market Commercial Lending
Twenty years experience documenting all aspects of commercial loans secured by equine collateral for multiple regional lenders. Expertise in Uniform Commercial Code compliance, filing and perfection as well as lien enforcement and competing liens with respect to equine collateral. 5 years of significant equine lending workout practice including forbearance, collateral marshalling, receivership, sale of collateral, and litigation. Relationships and experience working with all major equine sales companies.
Acquisition via Merger
Host Communications, Inc. (HOST) is a sports marketing and association management company that was the primary marketer for the National Collegiate Athletic Association. Its annual revenues exceeded $46 million. HOST also held a 34% interest in its affiliate, Universal Sports America, Inc. ("USA"), a successor to a number of businesses formed to operate and market grass-roots participation events. USA's annual revenues exceeded $62 million.
Bull Run Corporation, a publicly traded company, through a corporate reorganization and a series of subsidiary mergers acquired HOST, USA and Capital Sports Properties for consideration of cash and common stock in the approximate amount of $158 million. See Form S-4 Registration Statement, as amended, for B.R. Holding, Inc. filed on August 9, 1999.
The firm's experience as sports marketing counsel for HOST and USA brought inherent knowledge of the niche industry to the deal.
Counsel to the United States Equestrian Federation
We have counseled the United States Equestrian Federation, Inc., on an ad hoc basis, with respect to corporate governance issues, contract negotiations, sponsorship and trademark licensing issues, trademark prosecutions, unrelated business income tax matters, employment issues, charitable organization registration regarding solicitations of funds, sweepstakes rules and regulations and governmental relations matters.
Legal counsel for World Games 2010 Foundation, Inc.
We served as legal counsel for the World Games 2010 Foundation, Inc. (the "Foundation"), the Kentucky organization tasked with staging the World Equestrian Games at the Kentucky Horse Park in 2010. Dinsmore assisted the Foundation with (i) corporate compliance; (ii) corporate governance; (iii) numerous contractual relationships, including issues relating to the Staging Agreement with the FEI, trade fair agreements, talent agreements, operational consulting agreements, and multi-million dollar sponsorship agreements; (iv) government relations activities; (v) trademark prosecution and licensing; (vi) advice regarding unrelated business income tax issues as a not-for-profit entity staging a multi-million dollar event; and (vii) leasing issues with the Commonwealth of Kentucky for the Kentucky Horse Park.